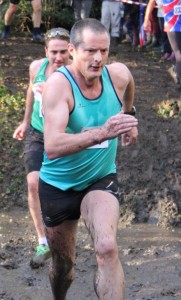 I'm sure, by now, that most of you will have heard the devastating news that our friend and club mate, John Enright, collapsed at work on Thursday morning and died shortly afterwards. John was only 43 years old and leaves behind his wife, Rachel, and two young daughters, Lily and Poppy.
John had only been a member of Bournville Harriers for a year, but in that time, the impact he had on our running community was immense. He was a warm, generous and kind-spirited guy, who took it upon himself to befriend everyone within the club, irrespective of whether they were an 'A' Team Cross Country scorer, or someone turning up on a training night for the first time. John made a point of arriving early on club nights, wherever possible, so that he could talk to others and, especially, make any newcomers feel welcome; that was typical John.
When the club was asked to provide a marshal for one of the cross country races, John put his hand up, even though the race was an hour away and it meant an afternoon away from his family; again, typical of John.
If John was honest with himself, he had probably come to terms with the reality that his prospects of representing Team GB at Rio 2016 were slim. However, while that feint hope remained, John was going to do all he could to keep himself in the running. Since joining the club, John's PBs over a variety of distances came down considerably. The last proper conversation I had with John was on Easter Saturday at Cannon Hill when he had once again broken his parkrun best and we talked about how he could bring it down further. We also talked about our children and how we were trying to encourage them (with limited success!) to embrace our love of running.
John represented the Cross Country and relays team with gusto. Some folks shy away from the particular challenges that can be presented on cold, wet, windy, muddy Saturday afternoons in winter, when whippet-quick youths (and Dean Parker) can expose the shortcomings in all of us, but John didn't care; he was in his element. He loved running off road with his Jack Russell dog and completed The Wall Ultra a couple of years ago, so ploughing round a park in Coventry was never going to worry him.
When the nominations for this year's club awards were announced, I looked at those up for the Newcomers Award and thought to myself, 'there's only one winner there'. That's not meant to be disrespectful to the other nominees, but John had entirely captured the spirit of the club in every respect in his first year with us and it was the right and proper decision to give him the award.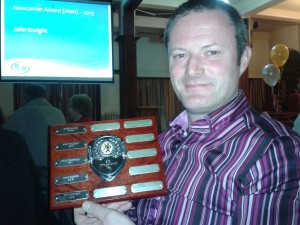 Prior to taking up running, John had been an accomplished boxer and also a popular figure on the local BMX scene. The last time I saw John running, I reflected that he would have made a formidable rugby player; I certainly wouldn't have liked to have tried to stop him when he was in full flight. However, it was distance running that became his passion in recent years, and it was at a result of this love that he came into our lives.
People, understandably, have a tendency to speak highly of the dead and to gloss over their imperfections. In John's case, though, there really is no need to embellish or exaggerate his many qualities; they were evident for us all to see every time we spent a few minutes in his company.
Reading through the many tributes that have been paid to John online over the last couple of days, one gets a sense of a humble, funny and gentle guy with no edge and no enemies. He touched people's lives, whether they met him briefly on holiday or at a race, or if they had been longstanding colleagues or mates. It was simply a privilege to have known him and we are all blessed to have had that opportunity.
We cannot imagine the pain that Rachel, Lily and Poppy are going through right now, but we share some of their grief and we offer them our thoughts and prayers.
John was only a Bournville Harrier for a short time, but he will be remembered for many years to come. Farewell, Big Man; you will be missed.
Oliver Kirkland and Suz West

—————————-
CLICK HERE TO VIEW A SCREENSHOT OF FACEBOOK TRIBUTES TO JOHN.