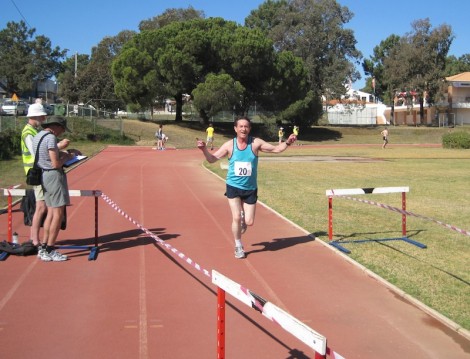 Barrie Roberts, Katie Roberts along with Martin and Marie Foster have recently returned from warm weather/pre-season training in the Algarve, Portugal. Barrie and Martin competed in 3 races.
Barrie report on the results:-
Falesia Annual 5k Road Race held on 13th March, 2012
A strong international field of runners. Two clockwise laps (including two uphill stretches per lap). Finishing line/funnel threequarters of the way around a 400m running track.
Martin Foster 23:15
Barrie Roberts 23:32
Falesia Annual 6k XC Handicap (held on an established international XC course)
Multi-terraine (watered grass, hard dry ground, `blankets` of pine needles, sand). 3x2km laps incl. hills and tight turns. Wooded and open areas. Weather: Warm and
Martin Foster 29:26
Barrie Roberts 29:41 PB (on that particular XC Course)
Falesia Annual 8k XC Handicap. Organised by www.209events.com (Mike Gratton`s Warm Weather Training Camp)
Mike Gratton, former London Marathon winner, kindly invited me and Martin to participate. Same course as the 6k XC but with an additional lap. Just before I set off MG reminded me that it was a tough XC Course. I suppose `when the going gets tough the tough get going!`
Barrie Roberts 39:09 PB (on that particular XC Course)
Martin Foster 39:39
It was great to be first across the line, with Martin in `hot pursuit.` We had both run well but have to acknowledge that the handicapping was more than generous! Having said that, I have run my fastest XC ever since joining Birmingham Rowheath/Bournville Harriers back in the last Century.
Katie and Marie gave welcome back-up and support during the above mentioned races. Furthermore, both Marie and Katie trained hard most days running/walking across a range of surfaces eg. road,off-road,cross-country, beach. I ran a total of 10 times in 2 weeks, 3 of which were races. Martin ran in excess of 30 times and must have run twice on most days, including long runs. He is training hard for the Brighton Marathon – 1st Marathon for 7 years. As long as he can avoid injury, and doesn`t experience bad luck, he should run well in Brighton.
It would be great to have a larger BvH Party next year.It is a wonderful place to run, walk, swim, eat, drink and relax, and meet fellow athletes/sportsmen/women from all over the world. Put it in your diary for next year.