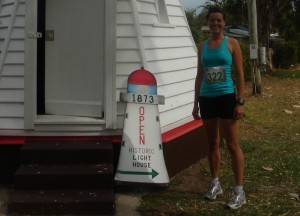 Sara Roberts reports from 'down-under'…..
After two months travelling around New Zealand I decided it was time to do a little bit of work (aka I needed some more money!) and took a 5 week locum position in Bundaberg on the east coast of Australia. I had managed to do a few runs a week in New Zealand but no real training, most of the time I was concentrating on my surroundings rather than my times (unfortunately Cofton on a sunny Saturday morning may have lost its charm after running in the Abel Tasmin National Park!). So I decided to join the local running group in Bundaberg to try and get my motivation back as well as meeting some people along the way.
Over the next few weeks I went along to 2 sessions a week with the club. All the members were very friendly and the abilities ranged massively. The members mentioned a 10k run- the Lighthouse Series-to be held a week before I left Bundaberg and I decided to give it a go, if nothing else to give me motivation to get out running at half 5am- it's about the only time of day to run and not melt! My teal vest didn't make the cut for my backpack but I did manage to find something similarish in colour, still a BvH'er at heart despite being on a different continent!
The morning of the race I set my alarm for 5am figuring I needed to eat something before the 7am start; again apparently it's a normal time for a race to start in Australia. The course was an out and back loop along a coastal path which I had been told was pretty much flat. My training had gone fairly well and I felt that my time would be dependent on how hot a day it was, so I was aiming for sub 45 mins and anything under sub 44mins I would be very happy with.
The start of the race was very informal and before I knew it we were off. With a habit of going out too fast I was aiming to hold back for the first 5k and then see how I was feeling. Luckily the sun stayed behind the clouds, there was a breeze from the sea, and whilst this meant a slight head wind the course was flat as promised and I ran 5k in just over 22mins. Feeling pretty good I kicked from there, figuring I would push again at around the 8k mark. I was second lady at this point, with the next girl at least 300m ahead so I decided just to see what I could do. I was still feeling pretty good at around the 8k mark but ran round a corner to find another runner collapsed by the path with a face covered in gravel. Luckily he was conscious but not in a good way. Someone had already gone for help so I stopped with the guy and just tried to keep him talking and persuade him starting to run again was not a good idea!
Unfortunately my race ended at this point. I finished but after about a 15 minute break waiting for the first aiders, doctor and finally the paramedics to take over. As far as I know the guy was fine, but it was a massive lesson to me about what can happen if you don't listen to your body in the heat. It also gave me confidence in how quickly some fitness can be re-gained and what a little bit of race competitiveness can do. I had a great time training with the club and meeting everyone, it's good to know runners appear to be a friendly bunch the world over!
Merry Christmas and Happy New Year to everyone at Bournville Harriers!