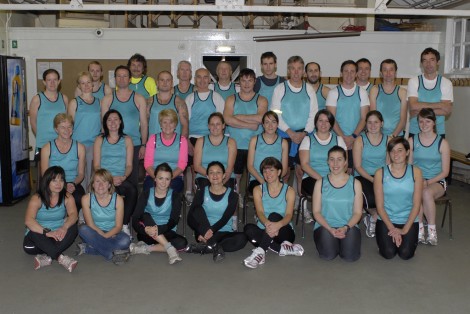 The local Bournville news blog has reported on the club's half marathon turn out:
Our local running club Bournville Harriers expect to field a record number of runners at this year's Birmingham Half Marathon which takes place this Sunday, 24th October. The club, which meets regularly at Rowheath Pavilion expects to beat last year's turnout by club members.
Club chairman, Steve James said: "Last year we had over 100 Club members take part which is probably the highest of any club in the race.  The Birmingham half marathon has become a key focus for many of our members and we also attract runners who join us to prepare for the event, enjoy the experience of Bournville Harriers, and continue to run with us in the weeks and months after the race."
In 2009, Bournville's fastest runner was Dean Parker, who ran 1 hour 15 minutes and the club's leading Lady, Mel James, finishing 6th in 1 hour 23 minutes.  Both Dean and Mel are running again this year and are looking to improve their times despite a changed course that includes an uphill section, towards the finish, through Edgbaston.
Also running for Bournville Harriers is Rob Andrew, who is European Masters Track Champion over 800 and 1,500 metres.
This weekend's race starts at 9am with the front runners appearing in Bournville, on Bournville Lane, at about 9.30am.