Gareth Cadd reports: On a very blustery Saturday the British Masters Road Relays were held in Sutton Park. We had planned to have had two teams out running, an M35 Team (8 men) and an M45 Team (6 men).
Unfortunately due to injuries and unforeseen circumstances, we were unable to complete the M45 team.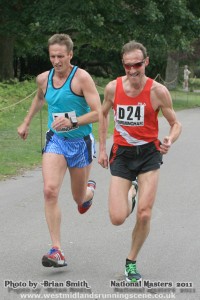 Ed Hartley lead out the M45 team and ran a new club age record for the 3 mile course in 18.54. Terry Doherty was next and ran a solid 20.41. Barrie Roberts then ran the 3rd leg in 23.35.
Andy Halliday was 1st to run in the M35 category competing against some very strong runners putting out an impressive 16.03 for the course and came in tenth position to hand over to Rob Andrew. Rob put in a storming performance of 15.58 for the second leg which bumped us into 3rd position. Jonathon Grix bumped us up into 2nd place when he ran his leg in 16.19.
Simeon Paine took over and ran a solid 17.42 and we were running in 5th place overall. Sean ran the 5th leg and ran 16.31 moving us back into 4th place. Matt Slater stepped up from originally being a travelling reserve and ran the 6th leg in a respectable 18.47. Stuart Pearson ran the last but one leg and ran 17.58. The last and fastest leg was run by Dean Parker in 15.57 ensuring that we had a top ten finish.
Overall, in some difficult wind conditions at times, the M35 team finished in 9th place and were top team from the Midlands.
Photos:
Ladies http://www.flickr.com/photos/48438725@N05/sets/72157626680784613/
Men http://www.flickr.com/photos/48438725@N05/sets/72157626805543258/
From Brian Smith http://www.flickr.com/photos/baldeagle/sets/72157626772064532/
From Bryan Dale http://www.racephotos.org.uk/masters_1.htm