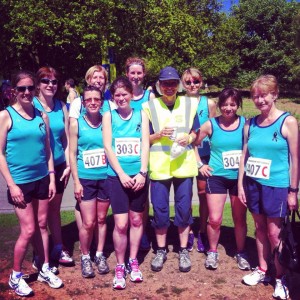 A fantastic turnout for the men and women at the British Masters National Road Relays on Saturday 17th May 2014 at Sutton Park. Extremely hot conditions and some runaway cows on the course made it a tough race, but everyone worked hard and put in excellent performances, spurred on by some excellent support from partners, children and fellow BvHers that made the journey to cheer everyone on.
All the women and men wore black ribbons in memory of John Enright, who was due to run at the event before his tragic and sudden passing. I think that gave everyone some motivation to work hard and do our very best for the team, as John always did.
The positions, BvH results and links to full results are below, as well as a few photos.
Many congratulations to everyone that ran.
F35 – 12th – Bournville Harriers A – 1h23.39m
Linda Howell 19.08m
Sarah Rock 20.35m +1
Suz West 21.51m -3
Laura Gale 22.05m +7
F35 – 26th – Bournville Harriers B – 1h39.36m
Emma Hopkins 23.22m
Lesley Pymm 26.57m -6
Nicola Morris 24.00m +8
Rachel Partridge 25.17m +35
F45 – 18th – Bournville Harriers – 1h12.32m
C Greenhouse 22.46m
Jude Glynn 23.46m +1
P Williamson 26.00m -2
M35 – 13th – Bournville Harriers A – 1h45.21m
Dean Parker 15.50m
John McKeon 17.37m -14
Sean Rose 18.21m -5
Richard Rollins 17.58m -3
Andrew Hall 18.01m +16
Oliver Kirkland 17.34m +0
M35 – (Incomplete team) Bournville Harriers B
Paul Gorman 18.59m
Mike Scotney 19.15m +9
M45 – 35th – Bournville Harriers – 1h20.08m
Daniel Wilson 18.35m
Stuart Pearson 18.12m +15
Anthony Stewart 20.52m -17
Barrie Roberts 22.29m +5
Women's full results here.
Men's full results here.