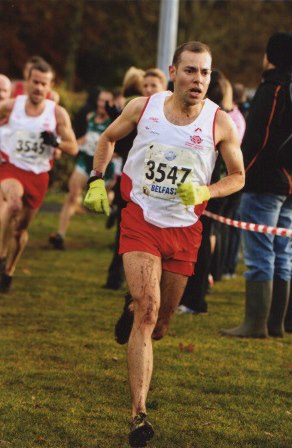 Barrie Roberts reports: Myself, my wife Katie and Orlando Corea were all in attendance at this year's British and Irish Master's XC International in Belfast, which took place on 10th November.
Orlando more than justified his England Team selection, being 3rd Englishman home in the M35 AC and winning a Team Silver Medal. All the international races were very competitive and hard fought and good to watch.
The ground was quite soft and muddy in places and therefore Orlando's time of 00:27:56 for 8k (4 laps) was most commendable. It was a pleasure and a privilege to see him performing so well on the International Scene.
I was a reserve for the Welsh Masters Team (M65). I ran in the Open Race which followed the International Races and completed the 6k (3 laps) in a time of 00:29:59. My best performance to date for a UK 6k XC course.
Thanks are due to my wife Katie who supported me, WMAA and Orlando.
(I would have submitted a report earlier but have only just obtained all of the results)
A pleasant and successful weekend in Belfast for the BvHers.