Lesley Pymm reports: This is the first time I have ever done this event and I would not have done it at all if it had not been for a plea from the race organiser for people to do to save it being cancelled.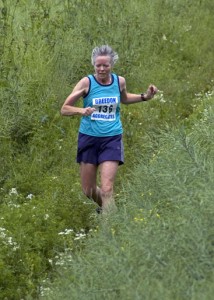 I had a pretty heavy racing week anyway, but decided to take it easy and just enjoy it and make up the numbers. I had seen the church at Breedon from a distance from the motorway, but had never been there before. This run started in a quarry below the church and then we had to climb up to the church on a rough track.
As we passed the church the road improved and we ran downhill before turning off to go around a golf course. It was slightly muddy in places, but nothing to what had been promised in the race briefing. Eventually we went through a pretty village called Wilson and then onto a cycle track. This was the boring bit – it was an old railway line so was pretty straight and flat.
It seemed to go on forever and then I realised that the man hanging around on the path was a marshal and he was directing runners off the path and into a field. It was a beautiful field full of poppies. A good downhill run took us back to the school field and the finish. An enjoyable run with some great cakes at the end.
Full results (PDF)