Caroline wins the BRAT 5km Ladies race in Bournville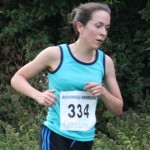 Caroline Harlan-Marks followed up her second place (and runner-up in the Warwickshire 5km Championships) in the previous BRAT 5km race with a great win and new PB in the 3rd race of the BRAT 5km Series.  Linda Howell also finished in 2nd place. 
Soild runs from Andy Halliday and Gareth Cadd and there were a total of 41 BvH members who ran in this event which is also part of our BvH GP Series.  A great performance by everyone.
Results now up. (PDF)