Sarah Rock writes: The cross country season is nearly upon us and BvH would like to encourage women to join the cross country team, particularly those who are new to cross country or new to the club.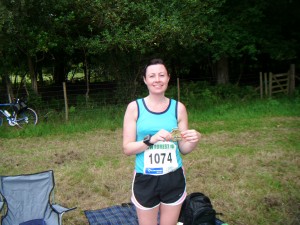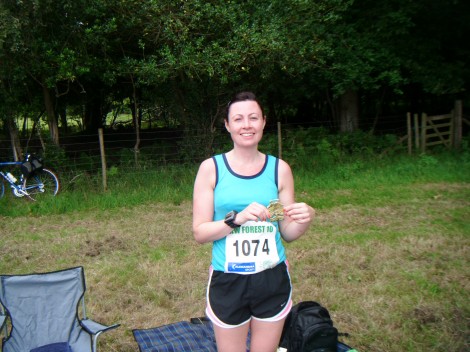 Who organises the team?
Sarah Rock (pictured) – I will send out details about each race, maps and most importantly of all, organise the goody bags of drinks and snacks for after each race!
What races does the team compete in?
This is the 8th year that BvH have competed in the Midlands Ladies Cross Country League (we placed 14th out of 28 teams last season!).  There are 4 races, which run alongside the men's league races (although sometimes in different locations).  The dates for this season's races are:
12/11/2011: Newbold Comyn, Leamington
03/12/2011: Princethorpe, Rugby & Northampton
14/01/2012: Baggeridge Country Park, Dudley
11/02/2012: Cheltenham
The 3 other races we enter are:
07/01/2012 (TBC): County Championships (Warwickshire), Cofton Park
28/01/2012: Midlands Counties, Wollaton Park, Nottingham
25/02/2012: English National Cross Country Championships, Parliament Hill (London)
These races provide a chance to have a go at racing the best in the country – we have previously lined up on the start with Liz and Hayley Yelling! (although you don't need to be as fast as them!).  The county championship also presents the opportunity to be picked to run for Warwickshire in the inter-counties cross country championship – we placed 2nd team last season!
How long are the races?
The league races are generally 6km in distance and the terrain varies dependent upon location and weather.  The county and national championships are usually a bit longer, approx 6 miles.
Do I need to be a fast runner to join the team?
No, you just need to be able to run the distance and enjoy it!  For each league we have to enter a minimum of 3 runners (although we had 24 ladies representing BvH throughout last season – 11 making their debut as new runners!)  The team with the lowest number of points wins the league – so if you come 1st, you get 1 point, if you come 50th, you get 50 points etc.  This means that if you don't finish in the first three, you still contribute to the team's success by pushing back the position of competing runners.  There is also a vet's team competition (age 35+).  The more runners we have in the league the better!!!
Even though some of the races, particularly the county and national championships have some fast runners, there are hundreds like me who run behind them, but enjoy the event and team spirit that you get from participating in such an occasion.
What do I need to wear to races?
You will need a BvH vest to compete and you may wish to invest in some cross country spikes.  However, you can run cross country races in fell/trail shoes and particularly if you are trying cross country for the first time, please don't feel you need to go out and buy new kit straight away!  Have a chat with me or any of the team if you want advice about shoes/shops/websites etc.
How do I get to races?
The races generally start at 1.45pm, although times and venues will be confirmed for each race nearer the time.  We provide maps so you can travel straight to races yourself, or we meet at the club and can usually provide lifts.
Does it cost to enter?
BvH pays for our entry (so please let me know asap if you cannot run a race for any reason so we don't spend club money unnecessarily).  Plus an optional  £1 per race means I can provide you with a well-deserved goody bag at the end of the race!
Is there any cross country training?
Cross country training starts again on Saturday 01/10/2011 (TBC) at 0800 at Cofton Park (near Longbridge).  It usually takes place every Saturday (except when there is a fixture, but please check the website for details).  The training is not mandatory (you are welcome to simply enjoy the races) but beneficial and even if you are not sure about competing in the races, everyone is welcome to come along to training.
Ten good reasons to join the team:
1)     It is good conditioning to get fitter and stronger for running in spring (marathons and relays etc);
2)     The opportunity to run races as part of a team;
3)     Running in mud and snow is great fun;
4)     To be part of the success of the BvH Ladies team finishing in a good position in the league;
5)     The goody bags afterwards…
6)     The cakes afterwards…
7)     The post-race socials with the men's team;
8)     The fun of the road trip to the national championships!
9)     Watching the men race after we have made the course all muddy!
10)  What better way is there to spend your Saturdays? – just look at the photos!
How do I find out more or join the team?
Email me
The website: www.bournvilleharriers.org.uk
The BvH noticeboard in the pavilion…
Listen to announcements on club night….or…….Come and have a chat!