Lesley Pymm reports:  Well – the clue is in the name.  I am sure Barrie will correct me if I'm wrong, but I think 'Bryn' means 'Hill'!!  This event starts at Cwmbran Stadium and there is an inevitable bit of road/towpath running before you get to the interesting running.  I was a bit worried as I was running with the 'last runner' as we went out along the cut.  I decided to just take it steady as this was over 13.5 miles and is known to be a hard run, I thought I would probably get ahead of some of the others.  We ran off the towpath and very soon came to a queue!  This was the first of goodness knows how many stiles.  What made it particularly interesting is that it was in the middle of a very large puddle.
Once over it there was field running for a while (with stiles) and then we got onto the forestry sections where the paths were very muddy.  There was one track where I was running behind a man who obviously knew the area better than I did!  He went to the right of the path, I just went straight on through the puddle and suddenly found myself thigh deep in very cold, muddy water.
Some runners had worn jackets and I decided that it was warm enough to go without, even if it did rain.  For most of the run I was very happy with this decision.  I was pretty warm and there was a lot of climbing involved.  Lovely views from the tops, but a lot of the time it was so wet and slippery underfoot that you really had to concentrate and not do too much tourism.  The stiles were also getting very dirty and slippery.
This event was very well  signed and marshaled – considering how long the marshals were out for and how wet it became, they all deserve medals, they were so positive.
I was probably about 9 miles in when I got to a marshal who said that after I had passed her and gone over yet another  stile, it was 3 miles downhill.  It was a this point that the rain really came down with a vengeance.  I was charging downhill with my knee screaming at me as I went and the rain was torrential.  This was the only time when I would have appreciated a waterproof.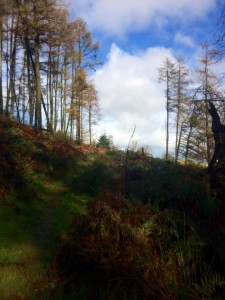 I had caught up with a young woman who I had been gaining on for some time and we ran together for a while.  More stiles – and I had got to the stage where I never wanted to see another stile again – ever!
The woman I was running with had got a bit ahead and I caught up with her as she was leaning on a gate.  It was clear that the route was straight on, but the gate was locked so over we went.  There were a few more gates that we had to climb – and suddenly a stile would have been appreciated!  As we ran across a field there was a disembodied voice shouting encouragement at us, we laughed and realised that he was on a track the other side of the hedge.  He shouted at us that this was the last stile – hooray.  It was the same stile that had been the first one – the one in the middle of the large puddle.  This stile was now absolutely covered in mud and the puddle was a real bog.
Not very far to go now and I went ahead of the woman I had been running with.  I was very pleased to see the finish.  This was close to 14 miles on my watch and it took me about 3 hrs 20 mins.  It was very hard and great fun.  I don't think I have ever been so dirty after a run before.