We've got two reports on last weekend's British Master's Cross Country Championships which took place in Bath.
Orlando Corea reports: When I first joined the club, as a complete club novice, back in the Autumn of last year, I hoovered as much info as possible from my new running mates about what to expect, and what was expected of me as a member. Very early on I was asked what age I was. For a moment I thought to say 29 but then realised that my cover would quickly be blown via the Power of Ten and other blasted results sites, not to mention the thinning hair and looking rough on early morning training sessions.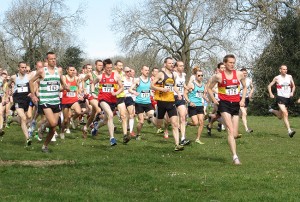 Being 36, gleefully I was informed I fell into the masters category. BvH already had a super strong team so I would add to it. Anyway six months later one of these Masters events loomed though the strong team has been sadly (temporarily I hope) depleted by injuries and other commitments. Down to start on the day were just 4 men (myself, Paul Thompson, Stuart Mugridge and Mark Doudican) and sole representative for the ladies, the prolific racing legend that is Lesley Pymm.
Having suffered with calf problems for 2 months since the January league XC I did think of pulling out and only decided to run at 0900. I was picking Paul up at 1000. Paul himself has developed a foot problem but was up for it so I thought, hey ho, why not, it is only a 4 hour round trip, with the danger of permanent injury. Madness.
On arrival, after negotiating the delightful Bath ancient road system in the freakish March heatwave, we bumped into the ever fragrant Lesley, who had just finished the ladies race in 112th place, 11th in her age category. Lesley wisely warned us that it was a boring course. Mark and Stuart said hello and before we knew it it was time to start. Such a shame I was rushing because I forgot to remove my new shades. As you can imagine, I was devastated. That said, they were very useful in the baking hot sunshine.
Indeed it was a tad on the repetitive side, 3 laps of 1.7miles, incorporating 4 loops up and down a field. A proper bumpy XC course, boulders and rocks dotted everywhere. I am surprised they didn't allow the odd cow and lamb in there too just to mix it up a bit. The course had few flat sections, you either went uphill or downhill. I was surprised that the overall climb of the 5.1 mile race was just shy of the total climb of the longer men's league race at Cofton in December. We all know how horrific those climbs are! This was less taxing on the thighs and while the climbs were gradual, they were very long.
The ground was unseasonably hard because of the recent weather, but not too bad. Paul sadly pulled out on the last lap, suffering from a bad stitch. He was gunning for a top ten place before he started to suffer. A real shame as he has been putting in some great training recently. I was just pleased to be back racing again, managed to hold on for 30th and was pleased that my running stats haven't dropped that much from January. Stuart (138th) and Mark (147th) both finished well ensuring we had a complete Masters team. Not enough for the team to finish in the top 3 on the day but all in all a good effort.
p.s. who knew that there were so many scarily fast "oldies" out there. The film Cocoon has a lot to answer for.
Stuart Mugridge reports: Must have got the month wrong… with the temperature around 20˚C and a difficulty finding mud if you looked for it this didn't seem to me like typical XC conditions!
I had entered just to see what a national championship was like really and only had expectations of running the 8k course in a certain time (32 to 35minutes). Also present on the day from Bournville were Lesley in Race 1 and in Race 2 with me: Orlando, Paul T. and Mark D.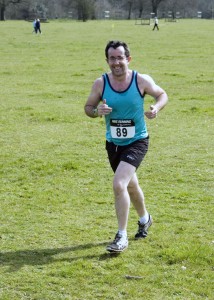 Most runners were erring away from spikes and the general talk was of a dull course. For Race 2 it was a horseshoe route round a large rectangular field that sloped along its longer length (repeated three times). Race 1 went round the outside of the field three times.
Race 2 started fast downhill with the usual thunder of feet on turf. It was all a shock to my system (confirmed by the numbers on my GPS when I looked later) and from the off I was struggling! I knew Orlando and Phil were up front and Mark was somewhere near the back with me. It was only on the second lap (I think) that I saw Paul sat under a tree – it looked very pleasant there and it was most tempting to join him.
Thoughts of dropping out had clung on to me for most of the run although later on I latched onto Alan Grice from Tipton Harriers and found his pace good to guide me home. I had been a little under the weather leading up t the race and it showed on the day – I just didn't have that extra bit of speed to move back up the field and I found every downhill as hard as the uphill especially in the centre of the field where things were a bit tussocky.
Still, it has given me something to aim at in future as I hope to do more XC races in the future. There were a reasonable amount of spectators scattered round the course though and it was good to have supportive shouts around the course: 'Come on Bournville!' from Lesley and husband I think and 'Come on Stuart/dad!' from my Wife and daughter – much appreciated!
Out of 155 finishers in Race 2 Orlando came 30th in 28:57, I came 138th in 36:48 and Mark came 147th in 37:55. With these figures we managed 8th team out of 8! Lesley was 112th out of 131 finishers in 29:18 for her 6k course.
results – http://www.bmaf.org.uk/results/res2012/bmafxc2012m3560.pdf
photos – http://www.charleswhittonphotography.com/bmaf-champs