A Golden Day for Dean, Sam and Orlando (who writes this report). Last month, myself, Dean Parker and Sam Chatwin decided to enter the British Masters 2012 10k Road Championships in Ashford, Kent.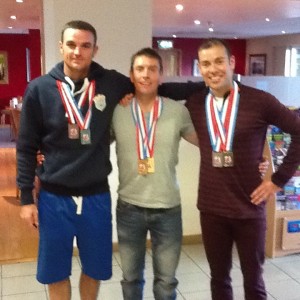 For anyone who doesn't know, once you hit 35 you can join your regional masters club as a second claim and then take part in races which award medals and titles to the various age categories from 35 and over. Having raced in some events in the last year I find it really inspirational to see runners much older or a similar age achieving superb times that anyone of any age would be proud of.
The Masters race was incorporated into the Ashford 10k so there were around 1000 runners in total from the very young upwards. The course itself was nicely undulating, well marshalled and organised.
We are so pleased we made the 360 mile round trip! A hugely successful day.
Firstly Dean, with his first major race since January and first major road race of 2012, achieved a fantastic new PB and club age record of 33m 40s. Having just turned 40, he also took a clear gold medal in the masters V40 men's category, finished 3rd in the overall masters race and was 6th overall. What a stunning and well deserved comeback to show for all his efforts, training and support to other club members.
Sam squeezed a new PB of 35m 31s. For those that don't know this comes just a week after he ran a 21 mile fell race, that included 1400metres of climbing! More notably, Sam was the 3rd V35 winning a bronze medal to show for his efforts.
As for me, I was 2nd in the Masters race, winning the silver in 32m 54s. I was around 30 secs behind the masters winner, who also was V35. He was just too good for me today. I am so happy to come second in a National event. I was 5th in the overall race.
To cap off a wonderful day, the three of us combined as Bournville Harriers to secure a clear gold medal in the Masters team competition. Additionally we took the Ashford 10k race team title too. However, coming here together and winning gold in the British Masters Championships against some strongly represented British Masters teams means so much more to us.
Hearing about some other wonderful BvH performances on the way back to Birmingham completed a memorable day #proudBvH
Overall Mens winner – 31m 55s
Masters men's Winner – 32m 22s
Overall Ladies and Masters winner – 36m 02s
As a further example of the quality in the Masters race the Men's V60 winner clocked 36m 56s!
Results not yet on BMAF but here are the ones for the overall race.
Pics to follow.