Lesley Pymm reports: If not a 'sea of teal', there was a respectable turnout for this annual multi-terrain 10k which is part of the Grand Prix.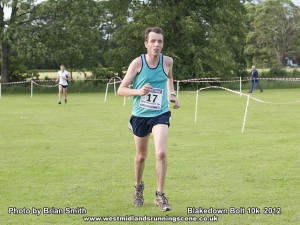 The facilities were so much better than they had been since the old building was vandalised. There were new showers, and the bar was indoors with tea and coffee. The race was a bit late starting as the warm up was still going on, but a few minutes later we were off.
This is one of those where you do a lap and a half of the field before heading off onto footpaths. This is necessary to spread the runners out a bit as the path is the first bottleneck. I found that I came to a halt just before I left the field, so there were probably more people there – or at least more ahead of me – than usual.
It took me quite a long time to get down the first path, but then I was running again. I don't really like the first bit of this race as it goes between paddocks, but then there is a good bit around a lake, then another bottleneck for a stile, before going through paddocks again. After that we get into the woods and the course gets more interesting. We go up and around Mount Segg (a bit of an exaggeration) before coming back down through the woods again.
It was quite muddy here and also difficult to get round people. I did pass one poor man who was hanging onto a tree to stay upright. It makes so much difference if you have the correct shoes for a course! Out of the woods and through the stream which was a bit deeper this year than previous years owing to the rain over recent days. Then it is mainly uphill over the return route to get back to the start/finish area.
At about 6 miles I passed a man who had collapsed and was looking pretty bad. We made sure that first aid was aware before continuing and found out later that he had been taken to hospital for a check up. Back in the field, the last loop and then over the finish.
The better facilities meant that there was real ale on draught his year, as well as the usual BBQ. Then it was time for the presentations. Gareth was second in 39.22. Well done to all who ran.
Full results (PDF).