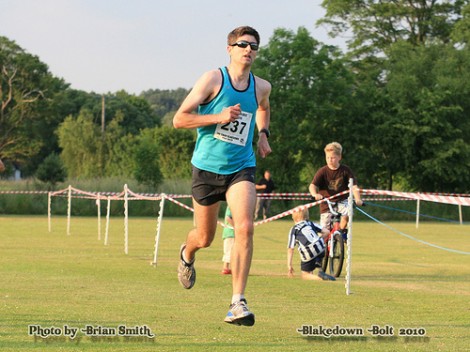 Regular race reporter Lesley Pymm reports from the Blakedown Bolt.
There was a smattering of teal at the Blakedown Bolt 10k and I had delayed sending in a report as I was waiting for results. However, they seem to be having some problems with the results – something to do with people finishing without numbers or running through the finish twice – so I thought I had better get on with it!
It was the first time I had done this event and I was really impressed with the attempts to get people to travel by environmentally friendly ways. We took the train to Blakedown, which was really convenient and cheaper than driving. The evening was very warm and they had put on extra drink stations, which I certainly appreciated. You would not think you would need 3 drink stations on a 10k, but I was glad of them.
There was a bottleneck very early on in the run (just as we were leaving the field) and we had to walk along a path at that point, then about 1k further on there was another bottleneck over a stile – at least we were standing around in the shade there. The run out was a bit boring, I thought, but then we got to a loop in the woods which I enjoyed – there was a lot of sand which made it very hard going and at the very end there was a stream crossing.
By the time I got to the stream I would have happily swam in it, but it was not very deep so I carried on running. The return route was the reverse of the outward run, so not too exciting, but at least there were no bottlenecks on the way back. There was a great atmosphere on the field, BBQ, cakes and bar (cans only) as well as teas and coffee. A good run.
Results here hopefully, eventually.
pic by Brian Smith