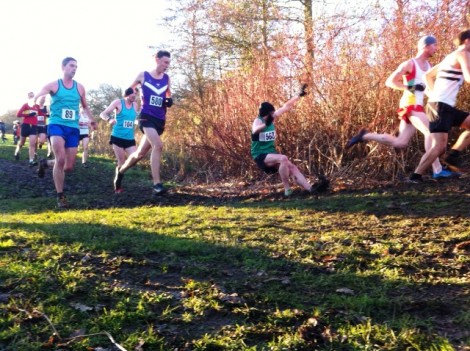 Men's XC Team Captain Rob Andrew reports:
Bournville Harriers hosted the 2nd race of the Birmingham Cross Country League Div 1 at Cofton Park last Saturday. A number of volunteers contributed to providing a tough but well marshalled course that was much appreciated by both competitors and officials. A huge thank you to all who took part – you should take great pride in a job well done. Sorry I can't mention everyone individually but I do want to give a special mention though to Steve James, Sue Ward, Brian Pearson and Lesley Proctor for their help in particular. Starting early in the morning to set everything up and to co-ordinate with visiting officials and then packing everything up well after the race was completed.
So a successfully organised event, but unfortunately not the result we were looking for in the actual race itself. As at the 1st race at Leamington, the team suffered from a number of the faster runners not being available. Despite some excellent performances from a number of those who ran, the A team finished 15th on the day, and now lie 15th overall after 2 races. The B team finished 11th and are 8th overall. Paul Thompson led the A team home in 58th place, followed by a resurgent performance by Chris Collins in 90th. I was disappointed to finish in 103rd, but Sam Chatwin and Sean Rose ran well to finish close behind in 113th and 122nd places. Stuart Pearson was the final scorer in 135th place, and deserves a special mention for also being there early in the morning helping out with the tents and course preparation. Brad Tod was first back for the B team in 153rd and it was great to see John McKeon make a promising debut as second scorer in 161st. Gareth suffered from celebrating his sister's wedding the day before finishing in 168th, chased hard by Jonathan Hammond and Andy Wheeler in 180th and 191st respectively. James Collins on his debut was final scorer for the B team in 192nd. Danny Wilson (194th), chairman Chris (197) got inside the top 200 with another seasonal debutant Andy Hoole finishing just outside in 204th. Leigh Church (217), Jack Roberts (226) and Mark Doudican (234) completed the C team. Robert Hockenhull (239th), Kevin Peace (240th) also made seasonal debuts along with Barrie Roberts (247th) who finished just behind Anthony Stewart (246th).
It should be noted that a number of runners improved on their times and positions from the race held here last year in similar conditions, so despite the poor result for the club we should be encouraged that a number of individuals are showing genuine improvement in their performances. What cannot be ignored however is that our Division 1 status is seriously under threat, and we will have to perform at our best in the final 2 races to avoid relegation. The good news is that the 300 points deficit to the 13th placed team (W&B) can still be made up, and there are still 2 races to go on Jan 12th and Feb 9th to do it. We could just do with some key injured runners returning back to fitness – something I know they are even more keen than I to see happen.
Let's do it. Have a great Christmas and a healthy New Year
-Rob Andrew
Some lovely photos of the race here (Nick Price's Flickr page).
Full results here.