A fantastic turn out and some great performances from the BvH Men…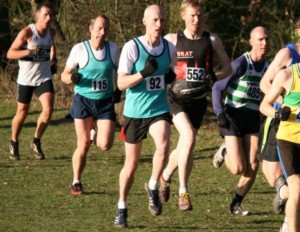 25 BvH Men turned out for the latest Division 1 XC League fixture held at Coundon Park, near Coventry.  The Men's A team finished 7th on the day and are 8th team overall with just one remaining fixture to go.
The Men's B team finished 5th 'B' team on the day and are in 5th place overall
Report by Men's Team Captain, Rob Andrew: Bournville Harriers maintained their momentum from the previous week's success at the County Championships with a fine 7th and 5th place finish for the A and B teams respectively. This puts the A team in 8th pace overall with one race to go, within striking distance (20 points) of 7th place. The B team sit comfortably in 5th, well over 100 points clear of their nearest rival. If we can get a strong turnout for the final fixture at Cheltenham in February it will conclude a tremendous season for the club. On to last week's race.
Gary Blackman was unable to race so Orlando stepped up to the plate by leading the team home in 51st on what proved to be a fast and short course. Paul Thompson couldn't quite hang on to Orlando finished in 56th, with me behind in 60th pleased to be ahead of Matt Cook 71st who had beaten me the previous weekend. Gareth had a good run in 75th, his best finishing position in Division 1, and Dean completed the A team with a gritty run in 86th. Both Matt and Dean showed real team spirit which has been a feature of the season so far – Matt dashing to the race from work, and Dean continuing to run through considerable pain with a niggling injury. 
This spirit was matched by those in the B team with some excellent performances from Rich Bayliss (100th), Chris Collins and Jon Grix both struggling with injuries finished in113th and116th, turning out to make sure we had a full squad, followed by Sam Chatwin and Stuart Pearson 137th and 138th with Andy Wheeler completing the B team in 174th. Sam and Stuart must have had a great race with each other with Sam coming out on top. The performances of Rich Bayliss and Stuart should be noted as both improved their finishing position from the last league race by over 30 places. It was good to see Jon race again for the club, and he improved the ambience of the team by encouraging one or two of us to take showers after the race before going to the pub. 
Barry Gardner led home the 'C' team in 181st who all finished within 23 places of each other with Daniel Wilson 186th, Matt Slater 190, Kevin Oakes on his debut 197th, Chris Harlan-Marks just inside the top 200 in 199th and Ed Hartley just outside in 205th.
I suspect not many clubs had a 'D' team but we did. Jack Roberts was 207th, Andy Hoole showing improvement in 215th, closely followed by Terry Doherty in 217th and Bob Hockenhull 221st. Paul Dugmore was beaten by his mate Terry finsihing in 228th and Mark Doudican was 236th. All of the 'C' team runners finished higher than the previous race and the challenge will be to do so again at Cheltenham.
It was nice to see Barrie Roberts race again in the league finishing 238th but making sure nobody older than he is beat him. Not many others in the club can make that claim I suspect !
Thanks to Brian Pearson and Kerrie for helping out again with numbers and finishing positions and others who gave great support out on the course.It would be great to have a full turnout for the final League race this season as mentioned earlier, particularly as the girls race will be at the same venue and therefore undoubtedly cakes. Lemon slice or chocolate for me please if anyone's still reading this.
Full results here
Nick Price photos are here