BvH Men finish 9th overall. Report by Rob Andrew…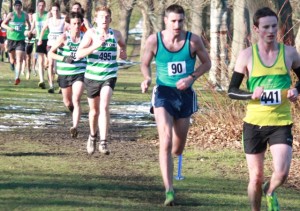 Gallant perfromances from the 21 BvH men who turned out in the final cross country league race held at Cheltenham.  We finished a creditable 9th place for the overall league with some solid perfromances, being led home by Gary Blackman in a fantastic 14th position. With many of our 'fast-cats' such as Orlando, Matt, Jon, Sean, Chris, Andy & Dean and others unavailable, there is certainly lots to look forward to for our Club going forward.
Rob Andrew writes: At the start of the season we would have gladly settled for the 'A' team to finish 9th overall out of 16 teams, alongside an excellent 3rd place in the 'B' team competition. However there was a tinge of disappointment that we missed out on 8th place by a single point and couldn't attack the 7th place we had previously hoped for due to recent injuries.  It is a measure of our success this year that we are now talking in those terms, and the club has made significant strides forward since promotion was secured last February. This has largely been due to attracting a number of new members. Only 2 of our top 6 on Saturday ran for the 'A' team last year, and 6 of the 10 who have scored this year are new members. This has also led to improved performances from more long standing members, and augurs well for future development. Congratulations to all who have taken part – old or new – and I hope that we can all build on this success particularly in the Spring road relays.
Moving on to the race itself I'm mindful that it's easy to write a finishing position and maybe a brief comment for each team member, but it does little justice to the actual effort expended by all concerned. I'm grateful to those those who've turned out for the club over the league series, and hope that everyone has enjoyed being part of a team whilst pursuing their own running ambitions.
Pride of place again goes to Gary Blackman, first home in a superb 14th position. We hope Gary will be selected to race in the Inter-Counties next weekend for Warwickshire at Cofton Park. He was followed by an excellent performance from Paul Thompson in 42nd place,one of two to have scored in all 4 league races this year. The other being myself, 58th this time, but who has to compete anyway in order to write the race reports! Gareth was 4th home in 83rd, followed by 2 new members to the 'A' team. Rich Bayliss 96th, and debutant Heath Mason in 114th, Rich has shown continued improvement all year and I know is looking forward to some shorter races this summer, and Heath ran a gutsy race to hang on in the final lap after a fast start.
Others to have shown real improvement this year led the B team home – Sam Chatwin in 118th place, with Stuart Pearson one behind in 119th and Brad in 125th. Danny Wilson, Matt Slater and Chris Harlan-Marks completing the 'B' team scoring in 134th, 157th and 169th positions to seal an excellent 3rd team position over the four race series. It should be noted the importance of consistency and strength in depth as Loughborough and Birmingham Universities as well as Birchfield failed to finish a 'B' team in this race.
Ed Hartley was first in for the 'C' team in 170th with Jonathan Hammond in 171st, and then 3 in 3 with Andy Hoole, Terry Doherty and Paul Dugmore in 177th, 178th and 179th. Bob Hockenhull completed the scoring in181st. We would have completed a 'D' team, as Mark Doudican was 187th, and the Roberts boys Jack and Barrie in 190th and 196th being our 3 finishers. Paul Gorman, Chris Collins and Mike Scotney all started the race but unfortunately had to pull out due to injuries. Hope all recover soon and thanks for trying to race.
As always there was fabulous support from both the ladies who had raced earlier,and our regulars with thanks again to Steve James and Kerrie Andrew for helping out with numbers, entries and finishing positions. I think this was a late attempt on their part to compete for the 'Brian Pearson' award, but I think that is one prize that was signed, sealed and delivered many months ago….
So in summary a great season overall – significant improvements all round, but best of all much promise for the future.
Just as a footnote we are likely to enter at least one team in the British Masters cross country championships in March (must be at least 35 on the day of the race). If anyone would like to compete please let me know asap so I can sort out potential teams etc.
Results here
Paul Gorman & Laura Leslie's pics here (including the Ladies race)