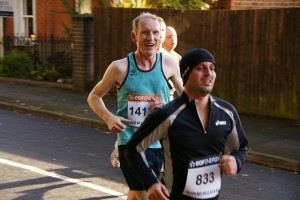 UPDATE – tell us your thoughts. The third Birmingham Half Marathon saw over 70 members of Bournville harriers compete in perfect conditions.
However there were reported problems at the start and the finish of the race. What was your experience and how can the problems be overcome next year? Let us know in the comments so we can feed back to the race organisers.
Highlights from a BvH point of view include Mel James coming in 1st F45 (8th Female overall) and runner up in the Midland championships; Dean Parker getting a great time of 1:14:14 (28th overall) and Mark Hobbs also getting under one and a quarter hours in 1:14:49 (34th overall).
There were some fantastic performances with 56 (78%) of the 72 Club members running personal best times, 1 new Ladies club record by Mel James plus 7 new club age best records from Mel James, Dean Parker, Mark Hobbs, Rob Andrew, Sean Rose, Phil Williamson and Sarah Vince.
An interesting note on how the club is improving is demonstrated with 40 members who ran on Sunday also ran last year's race and 28 (70%) of the 40 were faster than last year!
A big thank you must go to members and friends who lined the route to cheer us on..
Brian Smith's photos are here.
Some additional pictures taken by Sharon in Cannon Hill park are here.
Martin Watson has posted some videos from the day.
Official results are on the race website and also on this spreadsheet and also as a PDF (which includes club listing).
We've extracted the Bournville results although there are a few anomalies which we'll try to amend when we have more information.