Rob Andrew reports:I am delighted to report that the men's team produced an excellent result in cold, but suprisingly good conditions at Plock Court, Gloucester last weekend despite the recent bad weather.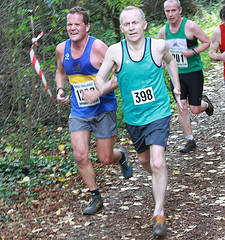 The 'A' team finished in top position on the day, and in so doing moved into 1st place overall after two of the four races
The 'B' team would have finished top if we were still eligible to compete in that competition. Pre race leaders Cannock failed to turn out their best team which opened the door for ourselves and Royal Sutton Coldfield to vie for top spot. We need to ensure we continue to put out strong teams in the final two races to take advantage of this, but for the moment let's celebrate what was a great result for the club as we go into the New Year.
The course consisted of 3 laps, and was flat, firm and suited to fast running. There were a number of battles going on between Bournville runners within the race. Dean led the way home coming in first for the club in 10th place, with me trailing behind in 11th. Closely behind us were Andy Halliday in 15th, with Sean in 17th and Jon Grix making a welcome return in 18th. This was great packing and was where the real scoring was done for the team with excellent performances from these 3 despite layoffs, colds etc. Sean's run was particularly impressive as he improved 14 places from 31st position in the last race. Gareth was our 6th scorer in 25th position which was also an improvement on the previous race and this despite suffering from flu symptons in the week before.
Mike Ungers made his cross country debut for the club and led home the 'B' team in 52nd, with Simeon Paine next back in 85th. I would expect both of these two to further improve in January with a few more weeks training under their belts.The next Bournville 'race' was between Steve Cumley in 96th, Andy Wheeler in 98th and Stuart Pearson just sneaking into the top 100 followed by Danny Wilson in 105th. The results show only 3 seconds separated 96th to 107th spot which if true would have been an interesting finish. However this close packing by our guys ensured top B team position of the day. Stuart and Danny both improved by 20 places from last time and it would be great to see that forward momentum maintained in January.
Mark Liptrot was next home – again another debutant, followed by Matt Slater, the improving Bob Huckenhull, Chris H-M (who had the disadvantage of sharing a lift with me on the way there – he chose another lift home!!), another debutant Nathan Jones and to cpmplete the 'C' team Gary Hawkesford. I haven't done the maths, but Barrie Roberts reckons this would have been the first 'C' team to finish, so a clean sweep for all 3 teams – well done to all.
Overall a great result, and one that we can build on in the final two races. Many thanks indeed to our supporters on the day – including Joe and his dog Jess who enjoyed joining in with the warm-up (Jess not Joe), and Brian Pearson who along with the ever dependable Chairman Steve James helped greatly with the admin on the day. Next up is the County Champs at Cofton on January 8th and then the 3rd league race on Jan 15th – but before then have a good Christmas.
Results : http://www.birminghamccleague.co.uk/images/ResultsBDCCLDiv204DEC2010.pdf
Photos : http://www.flickr.com/photos/48438725@N05/sets/72157625567794136