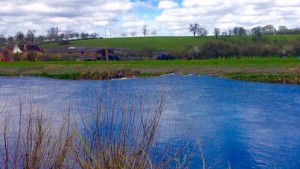 Lesley Pymm reports:  I was really excited about this run as the Severn Bore this year was expected to be a 4* one with a 10.2m tide.  As river levels were low and not much rain was expected in Snowdonia the Bore was expected to be faster – making it harder to beat. As I drove to the start I went through some of the flooding left from the night Bore the evening before.  At the start, I met up with Laura Gale and Adam.  It was windy and felt quite cold there – what to wear?  I always get it wrong.
We were told that the race would not start until about 10 mins after the advertised time – just to make it harder.  I think it was something to do with the progress of the Bore.  We hung around in the wind for longer, but eventually we were off.  It started uphill and everyone went belting up there.  Over the hill, where it was sheltered and I started to get too warm, and a bit of running before we went into the woods.  This was over a stile, so there was quite a queue there.
I had been told that I would hear the Bore before I saw it.  I was so worried that I would miss it.  I had never done it before so did not know what to expect.  There were a lot of stiles that slowed things down.  On one of the stiles I was attacked by a thorn bush and picked two very sharp thorns out of my arm, but then they caught hold of my vest and the woman behind me had to rescue me! Then we got to a bit where it said that the footpath was off to the left – but as it was under water from the night before we were running on the private land – I assume that was OK!!!  Towards the end of this there was a paddock with a few horses in it – so I waited for the runner behind me to grab the gate before going on the next one – then ditto!
At long last I was on the river bank and still waiting for the noise.  I saw canoeists near the Severn Bore Inn getting ready and a bit further on a surfer was preparing.  Around a bend and I was back into that wind again.  A glance at my watch told me that I only had about 3/4 mile to go – surely I wasn't going to beat the Bore?  I still couldn't hear anything.  Suddenly I was aware that the river was moving very quickly in the wrong direction – was this it?  Or is there a 'build up'?  I ran past Mike who had walked to that point and said: 'Is that it?' and he told me that he thought so.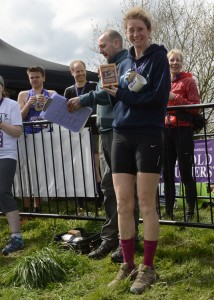 I finished and collected my very unusual 'medal' made from driftwood and mug, full of coffee – before collecting a veggie sausage roll.  Laura and Adam were there and Laura was saying how great it was.  We sat on the river bank and the water really was crashing along at a rate of knots in the wrong direction and it was getting further up the river bank  – apparently it would soon flood.  Laura then collected her award for second woman.
I am pleased that I waited a while before posting this as I have got over my disappointment a bit.  I think that the reason for the wave not being as I expected is that it was so windy and that 'flattened' the water a bit.  It was still amazing – just not what I was expecting (and my expectations were very high).  I will have to go back and do it again and see if I get a better Bore!