Lesley Pymm reports: This was the opportunity to combine taking Christmas presents to grandchildren with the chance to try a different event, and in the process get a personal worst time for a 10k.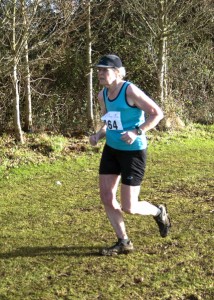 The event started at the Sports Training Village at the University of Bath. Some will remember this as being the base for the British Masters XC earlier this year. It seemed to be an event that attracted quite a number of 'new' runners i.e. people who were not used to running events. There were a few numbers worn on backs, but more worrying runners were still turning up to register about 15 minutes before the start. I was surprised, therefore, that we did not seem to be very late starting.
The start was not great as we were all shepherded into a funnel and then ran off into a narrow path. Not knowing any of the other runners, it was difficult to know where to position myself and so I managed a walking start. Anyway, eventually I was off and running along the back of the halls of residence. This was a fairly good surface and I happily ran along, passing some of the 5k runners who had started off too quickly.
We ran into some woods where a marshal directed us off along another path where it was a bit muddier as we headed towards the Sham Castle on this National Trust owned land. Just by the Sham Castle there was a downhill, slippery section and I heard people behind me shout as they slipped around. We then reached a section where there was the first of a few queues as I waited to clamber over a stile.
I was starting to feel very warm. The next section was over grassland with the sun shining and I was feeling seriously overheated. The good news was that there was another stile and another queue. This was the opportunity to whip the T shirt off and get the vest back on without tripping over. Once over the stile, the path was really muddy. This was followed by a track with deep puddles – I notices that the T shirt was getting very splashed as I ran along.
After running over Bathampton Warren, it was into the woods where the muddy fun really began. There were also some considerable climbs here. Reaching the top of one of them, I found Mike shouting me on – a chance to lose the T shirt anyway! A circuit of an area called Bushy Norwood and then I saw runners in front apparently climbing a wall.
As I got closer I realised that there were steps there and it was yet another stile. Then it was back into the university and along another muddy path. My feet felt so heavy with all the mud clinging to them as I ran back onto the field where we started and past the finish where the 5k runners were peeling off. I had to do it all again. I looked at my watch and saw that the first 5k had taken about 36 minutes. The second lap was the same but a bit muckier as all these people had run on it.
There were mince pies, jelly beans and other goodies at the finish. The goody bag contained a box of cookies, a Twix bar and a medal. People will probably know that I am not a great one for medals (I have so many) but, as medals go, this was a good one! The prize giving was disappointingly poorly attended with many of the prize winners not there! There were spot prizes as well. Then a lovely shower in the excellent facilities at the University.
This was not a run that I would prioritise in future, but if we happen to be going to Bath and it is on I will happily take part. It is part of a 4 event series over the winter.