Lesley Pymm reports:  Once again a Christmas visit to family in Bath coincided with the Skyline 10k – well, it would be rude not to take part!  I had not done it for a few years and the course had changed and so had the organisation.  This is a two lap course and there is a 5k event as well.  They were setting runners off in 'waves', all mixed ability.  I decided to go for the 3rd of 4 waves – and I think that was a good choice (there was logic to it, but I won't bore you)!
The race started in a car park at Bath University.  There were also childrens' races, which I watched from the loo queue – so cute!  The first two waves went off and then we had our briefing and we were away.  Out of the car park and over a footbridge then down onto the path beside a road before going off onto a track which leads to the Sham Castle.  Then it was up and over the golf course on Bathampton Down.  There is a loop, so you can see other runners coming towards you at this point,  and very confusing it is too.  Everyone has coloured numbers which show which wave they started in, so you don't really know if you are ahead or behind people – especially as they may be on their second lap….  Just get out there and enjoy!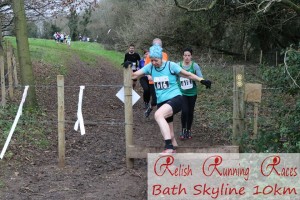 There was a woody bit where tree roots had to be watched – but the really tough climb that I remembered from previous years was not in it.  Back in over the footbridge, round the car park and off again.  I was picking people off and did enjoy it.
There were mince pies, fruit etc at the end.  This is part of a series of 4 races, which I am obviously not doing.  If you are doing the series, there are inter-connecting medals.  if you are just doing a one off – there is a medal with Pultney Bridge on it.