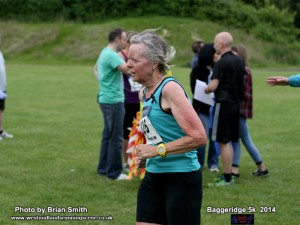 Lesley Pymm reports:  I do enjoy mid-week races, but I don't usually enjoy getting to them.  This was no exception as it took me 70 minutes to get to Baggeridge owing to the volume of traffic.  Anyway, I was there in good time to get a warm up done before heading for the loo queue!  Then it was off to the start.  For those who have done the Suicide 6 recently, much of the course will be familiar.  It was a cross between the first part of the Suicide 6 and that rather strange (but very enjoyable) run we did there a few season ago in the XC.
I did not see any other teal around, but there were many runners I knew.  I was chatting to a woman at the start who was concerned as there were so many club runners as she found them intimidating.  I tried my best to re-assure her and then it started and off she ran – never to be seen by me again.  I don't know what she was worried about!  I think I was one of the last to get up that slope at the start, but then I started picking them off.  We ran out towards that pool and then ran part way round it before climing up the hill to the toposcope.  Over the top of the hill, we ran to the left and dropped down to go round the bottom of the hill and back round to the pool again to complete the path round it.
Then it was uphill on some steps and alongside the mini railway before going through the woods alongside the drive into the Country Park and then out to the trail that runs (eventually) to Himley – obviously we were not going that far!
Back into the woods there were some undulations.  We came to a T junction in the path and the runners ahead turned left and I wondered how they knew which was to go as I couldn't see any signage.  When I got there I realised that there were some branches on the ground 'blocking off' the path to the right.  I thought they would have been very easy to miss.
We carried on running and eventually were following the path that we had run on earlier on the first part of the race.  I thought then that I had not noticed that we retraced steps when I looked at the course map.  We could hear them shouting people in and knew that we must be close to the finish.  We came into a car park and a man said to run through it.  I asked 'why?' as there were no tapes or anything.  We were all milling around the car park and I showed them the path  that we had come  out on at the start.  We went back along there and could see the finish and everyone running in from a totally different direction!!  We just ran over the field and the Race Referee told us to go straight to the finish.
I thought at first that we had missed a bit, but then looked at my watch and realised that I had done about 1/4 mile too much.  Some runners were very annoyed about it.  I wasn't that bothered really as I was just doing it as a run, it wasn't important in any way.  I was pleased that I had done too much rather than not enough.
The results were on line today and they apologised to those runners who went wrong – saying that this was due to 'course vandalism' – personally I think it was lack of marshals as I had not been impressed earlier with the branches that had been lying there to direct us.  If the direction was as well marked as that, I am not surprised that people went wrong.  I do think there could have been a marshal to direct runners into the finish!  I understand that many others went wrong  and not all at the same place, so it was obviously a general problem.  Apparently the first two women went wrong!  Anyway, I enjoyed it and there was money made for Action Heart.  Let's hope they get it right next year.