Lesley Pymm reports:  This is an event put on by the police and for police – but I was allowed to enter 'as they know me'!  No, Suz – I was not impersonating a police officer.  I was looking forward to the event, but Thursday turned out to be a very warm evening.  I did a warm up around the lake at Cannon Hill and was sopping with sweat.  It was a pretty small field.  I have not seen the results yet, but expect that there were only about 30 people there.
It started near the play area by the mac and headed out along the lake and over the bridge.  We turned right there and continued along the Rea Valley passing the triangle and on to the next bridge.  Over the bridge and along the footpath until it ends and we turned off onto the roads.  Briefly onto Kitchener Rd before turning left onto Cecil Rd and then Dogpool Lane.  Up Moor Green Lane and then (steep hill) went left and eventually dropped back into the park via Holders Lane.  Back down to the triangle, along to the bridge and then we went right to go all round the lake.  The second lap finished at the bridge.  It was an accurate 10k.
I had started off last.  As it started they all went tearing off and within seconds I was dropped. There was nothing I could do but keep going and hope some of them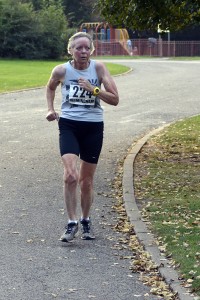 had gone off too quickly – which thankfully turned out to be the case.  I could see that some of the back runners seemed to be struggling a bit on the first lap and I just kept going as strongly as I could.  It was in the park as we went around the lake that I managed to overtake one young man.  He came with me for a while, but I could hear him stopping behind me.
I kept going and managed to pass a young woman just before we got out onto the road for the second time.  Then, on the hill on Moor Green Lane I passed another young man.  Then it was just a case of making sure that none of them came back!  There was no one else in sight, so I knew that I was not going to catch anyone else up.
I finished quite strongly and was very warm.  Got the W60 medal as well as the competitors medal.  It was a lovely event, shame there were not more taking part.  My time was about 58.54 which I was pleased with as it was not an easy course.  A good sharpener for the relays on Saturday!