Lesley Pymm's report marks the 500th post on this website: This race was promoted by Black Country Triathletes and I had seen it advertised some time ago. I thought about entering and then decided that 10 miles the week after the Grizzly may be a bit much and that I'd get some miles in on my bike instead (I've got a sportive coming up in a couple of weeks).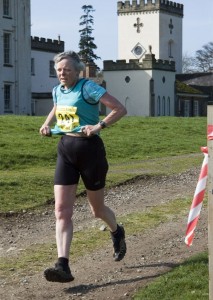 Anyway, as the weekend got closer, the weather forecast looked wetter and wetter for Sunday and I decided against being out all day on the bike. On Thursday evening I entered the run on-line, deciding that if my legs felt a bit on the weak side, I could always swap to the 4 mile race.
Sunday morning came and I set off from a drizzly, but not too cold Birmingham. As we went along the M54 the drizzle turned to sleet and then to snow. I thought about the choice of clothes that I had with me. What choice!! It had to be shorts, although I did have a few alternatives for the top half.
The rain stopped as we arrived at the village of Norton between Telford and Bridgnorth and there were lots of athletes milling around muttering 'why am I here?' I changed and then got in the loo queue – there were only 2 portable loos, so the queue was pretty long.
No time to warm up. We then had the race briefing and then, when we were all ready to run, we were told that the start had been delayed for 15 minutes as there were so many people who had entered on the day. Then it was a case of trying to keep warm for 15 minutes. I was pretty cold by the time I started.
The grounds were lovely. Apley Estates are owned by Lord and Lady Hamilton and they were present for the event and gave out the awards at the end. It was 'chipped' and well organised. The 4 and 10 mile events started together, we ran the 4 mile loop then went off on a second loop which was extended with something 'a bit more challenging'. After about 1 mile we ran over a suspension bridge.
The first time was pretty odd as, with all the other runners on it, it was bouncing away and seemed to come up to meet my feet before they were ready. After the bridge it was a run alongside the Severn before cutting uphill around a field. We then dropped back down to the bridge again – passing a lovely old disused station which was now a house. We ran in front of Apley House and continued around to do the first lap.
The sun had come out and I was getting very warm by this point, fortunately I saw Mike and managed to get my T-shirt off and sling it at him without stopping. Then it was round the loop again, over the bridge twice and in front of the House. We then veered off onto a section that was more uphill than down.
I kept thinking that we had to go down as we were going up, but the downs never quite matched the ups! I said to a young woman running about the same speed as me: 'Isn't this a lovely course?' and she agreed, but was not enjoying the hills. We ran through a few railway cuttings and then eventually had a long downhill to the finish.
This was a great event and seemed to go well. There were cakes and tea, coffee and beer afterwards. Hobsons Brewery was one of the sponsors. Finishers all got a running hat, so that made a change from the usual medals and things. Hopefully this will become a regular event in the running calendar.