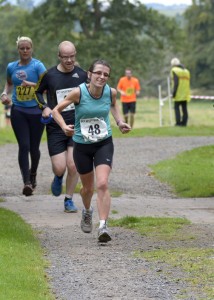 Lesley Pymm reports:  This event was postponed from February owing to the weather.  This suited me as I had just fractured my jaw and would not have been able to run it on the original date!  It wasn't quite so convenient for others – especially as it clashed with the start of the xc season for Shropshire and Staffordshire – so the field was small.  Only Jude and I made it from BvH.
I have run here 3 times now – and the course has been different each time.  Last year the course was short.  Didn't need to worry about that this year!  There is a 5k and 10k event as well.  The plan was for the 21k to go off at 2.00 and then there was about 10 minutes before the next race and then another 10 minutes before the 5k went off,  however it all got delayed by 1/2 hour.  The run is held on the Apley estate near Bridgnorth and there was someone who lives on the estate getting married.  They had to use the drive that we would be running over/along, so it was delayed to get them out of the way.  This mean that there was only a 2 minute delay before the other events started.
The route was better than previously as we did not actually use the drive.  We just crossed it and then ran around some fields and then came the first 'out and back' along a track up to a bridge.  At one time we used to run over the bridge, but it has been deemed unsafe, so we just run up to it and then back.  By this time the 10k runners were catching up.  I knew I was at the back of the 21k, but suddenly I saw a woman with a 21k number behind me!  What a relief.
There was then a bit of tarmac running before we got to a track that cuts though rock and climbs.  I caught a woman in my category at this point as she seemed to struggle on the climb.  Over the top and along the ridge.  Then it was  through woodland (where the woman I had passed overtook me again) and out onto another 'out and back' – this time taking us out to a church which we ran round and then back to come round to the start again.  A look at my watch and it was more than 10k – closer to 7 miles.  Maybe the second half would be shorter.  Dream on!
Just into the second lap I overtook the woman I had been following and another man.  Most of the lap was the same as the first time round.  Then we went off onto another tough little loop.  Maybe this means we won't do the bit around the church again……
I came out onto the track and saw that I did indeed have to go up to the church.  It wasn't quite so long this time as we hit the track a bit sooner.  There were other runners coming back down so I wasn't too far behind them, although I had no hope of catching any of them.  I just concentrated on not being caught!  It turned out that the woman I had seen on the first lap either dropped out or changed to the 10k event, as she didn't finish the 21k.
I got in and found that Jude had won her category.  Someone said that she should have the prize for the most enthusiastic recipient of an award.  I missed all that but I can imagine.  I actually got a plaque for being 2nd in my category.  Cakes at the end were good!  It was well over 14 miles, so we got our moneys worth!