Lesley Pymm reports: Whilst about 90 of you were running round the streets of Birmingham, I dusted off my XC spikes and headed of to Bedfordshire to do my first XC of the season. Ampthill Park is a lovely park and this event has history over decades.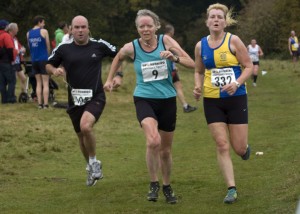 I have taken part for 3 years and I really enjoy it as my first run on the country each season. As I always say, it is unusual for women to be able to run 8k in a XC, so it is good to get out there and get some distance in.
The course is basically 2 laps, although there is a short loop at the beginning and a final straight into the finish. This means that the short, sharp and steep little hill is done 3 times!!! It is a good course. Undulating and with a stretch through woodland.
I remember that last year it was really dry. I wore spikes then, but only as they were new ones and I wanted to test them out before the league races; this year I needed them a bit more. It wasn't sloshy, but there was plenty of mud out there. I finished well, the photo is just at the finish and I held off the two people who were trying to get past.
The weather had been very misty as we drove over, but it cleared by the time the run started and got quite warm. This is a run that a fair number of new runners and non-club members run, so is fast at the front and pretty slow at the back. At the end there are refreshments supplied by the local scouts. A good Sunday morning run. My time was very slightly quicker than last year, so I was happy.