Lesley Pymm reports:  Usually this is my first XC of the year, but this year we did the relays at Walsall – so Ampthill was my second  outing in spikes.  I love this one as it is longer than women normally get the opportunity run on the country (5 miles) and we run with the men.
It is a 'challenging' course.  It starts with a small loop, which goes off downhill and then around a copse before heading uphill on a short, snappy little mound for the first time (we do it 3 times).  The photo shows me on this one on the second lap!  Then a downhill, avoiding tree roots that had been well marked in pink, and along a grassy field before turning off and into the woods.  This is where the first of the two large laps starts. 
This is a lovely run – downhill on soft mulchy stuff through Laurel Wood  where the spikes have the advantage on those using trail shoes!  It then goes up hill on 'The Standing' which is the highest point of Ampthill Park and is thought to have been a viewpoint used by hunters in the time of Henry VIII.  Lime trees are planted here, probably as part of Capability Brown's landscaping.
There is another good run past  Katherine's Cross, put up in memory of Katherine of Aragon who lived in Ampthill for a year whilst Henry was getting their marriage annulled.  We ran past the site of Ampthill Castle and then Ampthill Camp Memorial Cross.  Then it starts to climb again and I knew that the lovely little climb was coming up soon!!  Anyway – only once more.
Another la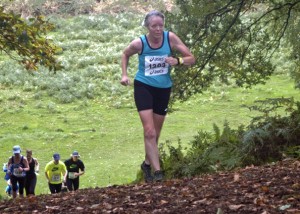 p and then into the finish.  This year there was a buff for all competitors, last year it was a shoe bag.   In the changing room afterwards we all agreed that the conditions had been great.  It wasn't 'too anything' – not too dry or too muddy, not too warm or too cold but the sun was great, not too windy but a lovely breeze .  It was just right.  A great run and my time was a couple of seconds faster than last year so I can't complain!