Stacey Marston Reports: It's been a while since I penned (or should that be ipadded) a run report; recent excursions have mainly involved other BvHers and, well, I've been a bit busy. Since I'm happily lying on a sun-lounger with some time on my hands having just done a 5k in which I was definitely the only BvHer, possibly the only Brit, I thought I'd share a few reflections on what may well have been the most surreal of events I've taken part in. I've read of other Harriers stumbling upon races whilst holidaying abroad; Emily's hilarious report from France last year being a memorable one, but my pre-holiday research only extended to a cursory glance at Tripadvisor having rather hurriedly booked a 5-night break in Amarante, so I was oblivious to the existence of this run until about 5:30pm on the day of the run, just a few hours after arriving.
We were on our second pint of the local beer having enjoyed a bit of lunch at the hotel and a walk around the town to get our bearings, when I succumbed to the lure of Facebook. In amongst other holiday updates a post popped up: "HÁ FEST! Amarante Night Run" it said, "Free Run 5k". I said to Guy, "oh there's a run here. 31st July. Is that today?" Him: "yes. I suppose you'll do that then". Now, I should point out that Guy is very supportive of my running habit (that word chosen deliberately for its connotations with mild addiction, which I'm sure many BvHers will identify with), but I'm sure his vision of our first night on holiday was a nice quiet meal and a few drinks, instead of what was to come. There have been doubts raised as to whether I genuinely knew nothing about the run; I offer as evidence to the judge and jury that I had no BvH vest with me, no Garmin, and certainly nothing hi-vis for a night run.
I asked at the hotel reception about the run, they told me it was full, 1000 participants had already registered but I could go along and join in. They told me lots of people walked it. Guy shook his head and said, "she'll run it". From our hotel room we could see the inflatable start line being set up and I got a bit over-excited and headed down there early, at about 7pm. I misunderstood the Facebook post and thought the run started at 8:30pm, which really in hindsight didn't make sense for something advertised as a night run. There were so many families, very young children and masses of people though, it seemed inconceivable that it would start much later, it being Sunday; but it seems that things are different here. We had thought it would all be done and dusted at about 9:30pm, leaving time for something to eat afterwards. There seemed to be very little happening though, in the way of organisation, until at about 9:15 when everything sprang to life on a stage and we were led through a vigorous Zumba warm-up. Everyone who had pre-registered was given a free bright orange t-shirt, and loads of luminous bracelets, bunny-ears and other flashing knick-knacks so as it got dark and the music grew louder there was a brilliant party atmosphere. I was a bit worried though, having not eaten since lunch and the run showing no signs of starting, plus feeling guilty about Guy who also hadn't eaten and we were now very much doubting our chances of getting something to eat late on a Sunday night.
Eventually the Zumba party came to an end and there was a big race introduction, none of which I understood of course, and I wasn't even sure which direction we would be running in. And then we were off, after a fashion… Everyone dancing and walking; it was impossible to run. The first half a mile or so was packed and crazy, but great fun. We went up and down some serious inclines, but everyone was walking so I was having to weave in and out. There was a lot of shouting, chanting and laughter. People were lining the streets in the town and cheering. The route turned down a very steep incline where it was just wide enough for two, and we all ground to a halt as we descended precariously. Then we were back up again, and I felt like I was, for a change, faster going up than down! The run turned along by the river and I managed to get out from the crowd of walkers and began passing people. It was dark along here and I used the torch on my iPhone (which I was also using to record the run on Strava). My knee was giving me a bit of grief, especially as we went up a series of steps back up into town off the valley, but I was still grinning from ear to ear. I was glad to get on a nice clear, flattish section on the roads again and passed a couple of girls who shouted something that sounded encouraging to me. I told them I was sorry, I don't speak Portuguese and they laughed and said "Go, go! Run, Forrest, Run!"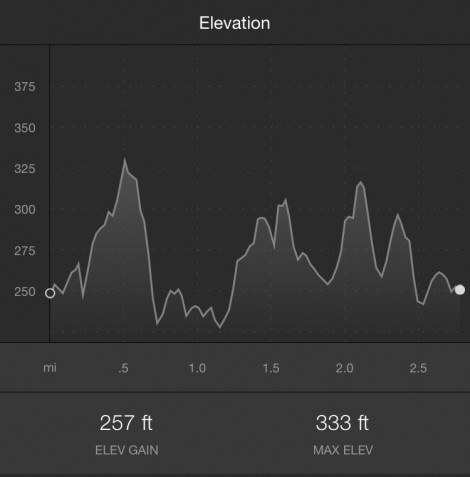 Back in town but disoriented I noticed the lead runner turning towards the finish line and wondered if we were going to do a second lap but we turned off in a slightly different direction so nothing was familiar in the second half of the run. I was now feeling quite hot, and it was apparent why you would save any running until 10pm in this climate. The route went back down to the river and along a track that was mainly sand and a few cobbles, I really needed a head torch but managed to keep going, mostly passing people who'd got off to a better start. Here it was quieter, except for the sound of crickets and the distant hum of party music. We then turned back up more steps (ouch) and I looked at Strava, where it said just over 2 miles. I wondered where they were going to make up the distance but it turned out that the 5k was a very loose term and I crossed back over the start/finish line to shouts and cheers with 2.7 miles done according to the app.
I quickly found Guy, who was waiting with a table in a bar/restaurant with a beer and a perfect view of the finish line. He's become quite the expert at providing support from the sidelines of races, having perfected this over Suz's epic 100km the weekend before at Thunder Run. He'd already made friends with a waiter, who encouraged him to have some food before the kitchen closed at 11pm, saying it would probably take me two hours to finish it! Guy had assured him I would be done well before then. Thankfully we were able to order some food to go with our beers, although I'm still not entirely sure what I ended up ordering, being told it was a vegetarian zinger – like a cheese and mushroom toastie in a peppery mushroom sauce. Frankly I would have eaten anything by that stage. People were still crossing the finish line as we sat and watched. There was a DJ playing, I recognised none of the tunes but the atmosphere was brilliant – a confetti cannon was fired from time to time and there were Roman candles going of from the steps of the church. The runners were handed balloons with flashing lights in them which looked really cool, and the party continued right through to midnight.
We walked back over the bridge to our hotel as things were winding down. Looking back from the window the clean-up operation was well under way and it was as if the whole thing had never happened. It was a great start to the holiday, giving me an immediate and wonderful connection to this lovely place and friendly people, creating some happy memories and reminding me of the joy of running.