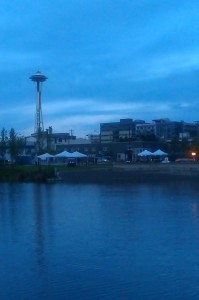 When the alarm went off at 5.30am on the last day of my holiday in the Pacific Northwest, I was tempted to throw my phone out the window and go back to sleep. Within minutes however, my agnostic Catholic guilt kicked in and I got ready for my 5k at South Lake Union Park. I wasn't sure how long it would take me to get to the race start, hence the early start. Needless to say, I was there an hour early and was the first to collect my number and race t-shirt!
I was rewarded with a beautiful sunrise on the lake and gorgeous views of Seattle. I also had a chance to chat to the organisers who informed me that I was one of the few 'non-coffee company' related runners taking part. It is the second time this race has been run with only 15 participants last year. It was started to raise money for women working in coffee producing communities in the Congo and as the HQ for many a multinational coffee company are based in Seattle they decided to organise a charity run during their big coffee expo http://www.scaaevent.org/.
There were 200 entrants on the day, about 40 doing the 10k race and the rest of us doing the 5k. There were stalls with free coffee (naturally), some lively music on the PA and some fun coffee sack races going on.
At 7am the 10k crew set off on the out and back course along the lake. The atmosphere was great and extremely laid-back, nobody seemed too bothered about running fast. The fact that my Garmin had died the night before and the lack of any official timing meant that I was feeling pretty chilled out about the race too.
At 7.30am the rest of us set off at a very leisurely pace. Almost TOO leisurely. I found myself getting a bit competitive and decided to follow the first lady in the 5k. My goal was to stay with her for as long as possible. There were lovely views along the lake on one side and a not so lovely road on the other. A few minutes in and we started to see the 10k guys coming back. A few were running in those horrible foot glove things. SO Seattle! The turnaround came quickly at the Freemont Bridge and we were also treated to a shot of coffee or a cup of water!
On the way back I noticed that the first lady was slowing down so I decided to try and pass her. As I got closer I realised she was just chatting away to her running partner and didn't seem that fussed about the race. I passed her with about 500m to go so enjoyed the lovely run back into the park.
At the finish there was a stand with lots of fair trade snacks, so I loaded up on those, got another coffee and got someone to take my picture. I gathered my bag and was about to leave when they started to announce the winners and asked them to come and collect their prizes. As the whole event was so laid back and not timed, I didn't think they were awarding prizes. I decided to stick around. The prizes for the 10k were brilliant, coffee makers and grinders, and other coffee related paraphernalia. Finally they announced the 5k winners and I was actually given a prize for being first lady for the 5k! The organiser told everyone I was there on holiday and had nothing to do with coffee, much to the crowd's surprise. I got a lovely round of applause and a few pats on the back. So, even though I have no idea and will never know what time I did, I actually won a race with other humans in it!
Registration swag: For entering the race I got a lovely organic cotton, fair trade t-shirt with the race logo, a badge with 'I finished the Java Jog' on it, some lovely chocolate made by a Seattle company called Theo (Ben Affleck is the CEO apparently) and some leaflets.
Winner's swag: A $25 voucher to spend at the expo which I gave to the 2nd placed lady. A coffee related t-shirt, cap and cashmere scarf, more chocolate, bumper stickers and event leaflets.