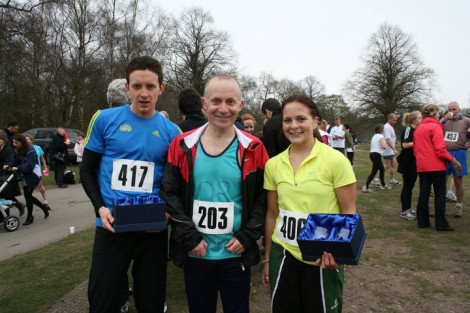 Bob Hockenhull reports: The annual 7 Pools Run took place in Sutton Park on Sunday 27th March – a chance to explore parts of this beauty spot that the Road Relays don't reach!
It was the first time I'd entered this 10km race and it proved to be quite a challenging course – virtually all of it is off road and there are plenty of undulating bits so it's a cross country really -although by no means as tough as Cofton Park.
One of the driest March's on record meant it was perfectly OK to run the race in ordinary running shoes – good for me as I've recently bought a new pair and because they're pretty springy they helped me achieve what I think is a 10km PB for me -43 mins 46 seconds.
The race starts near the Visitor Centre virtually in the same spot as the Road Relays but it doesn't take you up that horrible long hill – instead going near Wyndley Pool before navigating west to Powells Pool and then taking in the remaining five.
There are quite a few up and down bits through wooded areas in the second half of the race – so for anyone suffering from withdrawl symptoms because the Cross Country season has ended -it's probably the perfect race.
Well over 400 people took part with the winner Nick Stretton from Four Oaks finishing in a very impressive 36 minutes 33 seconds. The course was well marshalled and there were markers every kilometre so maybe one to consider entering next year.
Lesley Pymm adds: it is some years since I last did this event. There has always been something else in my diary that clashed with it. I did not remember the course at all, but did remember that I had enjoyed it on the one previous occasion when I ran it.
As I was still getting over the Grizzly and my first cyclo-sportive (which had left me unable to move for days – I am having my bike set-up looked at on Saturday) I started right at the back and took it easy around the course. It was a lovely course and the weather was good. It was not too warm, but at least remained dry.
As it said on the tin, we went to the 7 pools in Sutton Park. It was multi-terrain and not too hilly. The young marshals early on were not too enthusiastic – they said nothing and many were looking at mobile phones or other gadgets, but as we got further into the run the support from marshals was excellent. T shirts for finishers.
BVHer Keith Elliott also ran.
Full results.