Jon Hammond reports: The annual 7 Pools Run took place in Sutton Park on Sunday 25th March, organised in support of the Norman Laud Association.
I try to meet up with a few old work colleagues every year to do this 10k in Sutton Park – a bit of banter and friendly rivalry helps us all to push the envelope and knock those extra seconds off our PB's! This year I had convinced Claire to do it as well.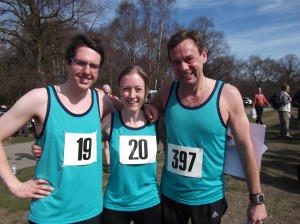 The day started in comical fashion when the car wouldn't start. At least, I can see the funny side of it now; at the time the neighbours were treated to some choice language! A few frantic phone calls later and our Moms came to the rescue, mine as the taxi and Claire's by dashing to the start to register us. We arrived 5 minutes before the gun, pinned our numbers on and strolled nonchalantly to the start line. No time for a proper warm up but surely after all that we were due a good time?
It's a scenic course, mainly on paths but with some tarmac sections. There are also some decent hills (but not like Cofton)! Within the first mile I was passed by a man clip-clopping past in spikes and grumbling that "someone told me it was cross country". He was soon to feel better, as the tarmac gave way to grass. In fact, I think this March has been even drier than last year (see Bob Hockenhull's report from 2011) so I was fine in road shoes, although some muddy sections under the trees meant it was effectively single track at times.
The race starts near the Visitor Centre and takes in the 7 pools in the park, via the jamboree stone in the centre. The warm weather encouraged a good turn out of spectators, and over 400 runners took part. Some marshals have looked a little bored in previous years but this year they were very encouraging. TShirts for finishers in small to XL.
We both ran PB's, and I also saw a fellow Bournville Harrier, Mark, cross the line shortly before Claire. I was really flagging toward the end (especially as the finish is uphill), but the shout of "she's right behind you" spurred me on to a decent finish. Being mainly off road it may not be 10k exactly, so I'm champing at the bit to enter a road race and set a proper PB on the tarmac.
Results at: http://www.7poolsrun.org.uk/