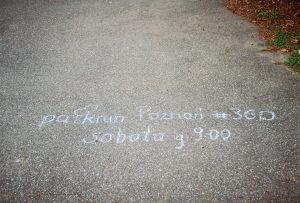 Lesley Pymm reports:  I know we don't usually do a 'race' report on parkruns, but this one was really special so I hope you will forgive me and also excuse all the photos!  parkrun Poznań is held in Citadel Park which has an amazing amount of history attached to it and two museums – I only had time to get to one of them in the few days I was there.  The park itself is beautiful and is used as a place of leisure for the people of the city.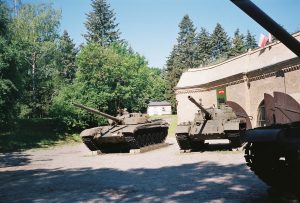 I arrived early as I was not 100% where the start was. I soon found my way to the finish where people were beginning to congregate.  The ED came and had a word in English to explain that they were having to use an alternate course as there were path repairs going on.  We would not be running through the tanks.  I was so sorry as I was looking forward to that – photo to let you know what it could have been like!  We were doing two laps of one loop, when normally it was a one lap course.  I was just pleased that it was going ahead as there was no Plan B that week!
Everyone was so friendly and came and had a chat.  There was another couple from the UK – she was actually Polish but her husband is from London and that is where they live .  There were a lot of children there and it turned out that this was a special week where they were encouraging children.  Every volunteer role was taken by a child (with a suitable adult at arms length) and they were also encouraged to run/walk.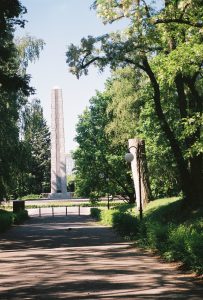 After a while there was a bit of a briefing where the changes to the course were explained (I think) and then we walked over to the start.  This was just along from the Heroes Monument.  We ran towards the Peace Bell and then were doing a loop around this lovely park.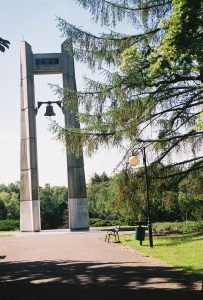 It was all on tarmac and it was so warm.  The course is slightly undulating and there were lots of trees so I was finding the shelter of trees when I could.  We ran alongside the lovely rose garden -which we would normally run around.  We came alongside the Museum and could see many military vehicles and then back to the Heroes Monument again before starting on the second loop.
At the end there were biscuits as there were a couple of people getting milestones.  There were also certificates for youngsters to encourage them.  I was going to leave but could not get away.  I was adopted by a lovely woman called Ewa who had me sign her autograph book and then the ED told me that they had a photo taken at the end of everyone looking suitably sweaty.  So I cheered the remaining people in and then eventually we all went and sat on the steps.  More speeches and more certificates to those who had attainded milstones.  Lots of clapping and then, in English, I was introduced and everyone clapped me as well.
It really was a fantastic morning.  I was invited to coffee but, as that was 2k away and I had sightseeing to do, I declined.  Being a boring old P they do not get the same number of tourists as other Polish parkruns, but this really was worth doing – so if you are in the area you will be welcomed.