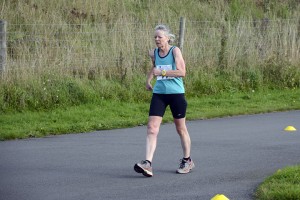 Lesley Pymm reports:  This was a first for me.  I have never done a race walk event before.  When I fractured my jaw a couple of years ago and was not able to run for a while, I 'sort of race walked' parkrun and one of the Centurion Grand Prix events.  People kept trying to encourage me to try a race.  This League is only 3 events, it is handicapped (although I don't pretend to understand the system) and it is a 'B' event.  This means that technique does not have to be to the highest standard.  Basically you have to make sure that you have one foot in contact at all times but they are not too strict about the rule about not bending your knee.  I was still pretty worried about it though!
I turned up at Stourport Sports Centre and paid up!  Then went out for a bit of a warm up and to see the course.  We were racing on the cycle track.  It was all tarmac, with a bit of a slope – you could hardly call it a hill.  Basically it was out and back 4 times to do 5k.  There was also a 10k event later in the day.  Some people do both, but I though that 5k was enough to start off with.  Everyone was very welcoming and encouraging, but I still felt very nervous about technique.  This got worse as one of the judges explained how many judges there were out there and showed us the 'tokens' that they would display if we got a warning.  There is also a board where your number is displayed if you get warnings.
Anyway – soon we were off.  Someone had said not to worry about being last as people often are the first time.  I wasn't worried about being last, I was worried about being disqualified!  I started at the back and did pass a couple of other walkers.  There was a small group of us towards the end.  Going towards the turn round point, the first walker was well on his way back again.  He was so fast!
I finished my first lap – 3 more to go!  I was gaining on a woman ahead.  Just closing the gap slowly.  We went round the loop a second time and were over half way.  I had seen some numbers on the board, I couldn't remember my number and couldn't see it – was it me?  Had I had a warning?
At then end of the third lap they rang a bell to tell us it was the final lap.  The young woman who was behind me, and walking with her father, said to him: 'Is this where I speed up, or is it too soon?'  She was off.  However, I did overtake the other woman in front of me. I wasn't going to let anyone else pass me now!
As I finished they all waited for me and clapped me in.  It was so lovely! I can't say that it is better than running, but it was good for a change.  I would like to improve and to know what I was doing wrong, if anything.  I did not get any warnings or disqualified.  I haven't seen the results yet, so don't know how I did on the handicapping.  I was 12 minute miling, which is apparently quite acceptable for the first time!