Suz West reports: This may seem strange writing a race report that nobody was actually at. Each year we celebrate the life of John Enright at Cannon Hill parkrun at the beginning of May. Several months ago I was given the go ahead. The parkrun core team have to also make someone at Cannon Hill Park aware. I contacted Kings Heath running club, our friendly rivals who we have a race off with. The points system works like cross country. Which to be honest is still a mystery to me and so I normally find someone to work this out. Otherwise Bournville would just win each year obviously. I went to the British Heart Foundation shop in Northfield who now know me and are always grateful of the donation. They wrote it on their calendar. We had a brief discussion that went along the lines of hopefully we can go ahead and this virus won't be too bad. The last parkrun I went to as so many others was the one before parkrun had to stop for safety reasons. I had been made aware before the official announcement and my thoughts turned to John's parkrun. Should we postpone? Run this later in the year would cause all kinds of logistical issues. Is Kings Heath free? Will the core team have permission? Will parkrun even go ahead again this year? A question we are all still pondering. One thing though I could not get away from the reason it's this week. The anniversary of John's passing… to do this any other time just would not feel right.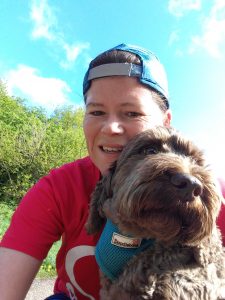 The new plan. A virtual run 5kforJohn. At the same time Kristy had thought of the bake off idea. I suggested we do these two things over the same week. As we normally have a bake off at cannon hill too. We also opened up a Just Giving page for The British Heart Foundation. The plan: over a week period our members ran 5k then posted a selfie 5k for John. They also baked and sent in their creations.
My 5k: I thought about going to cannon hill, why wouldn't I it always reminds me of John? We spent so much time there running around it. I could have cycled and then ran but was worried about leaving my bike. I felt it was too far to run from my house at this time. So my plan was to do my regular 5k route through Manor Park. After all it was still a park and I came to the conclusion John would approve. John preferred to run off road when he could. I really didn't want to run this 5k on my own.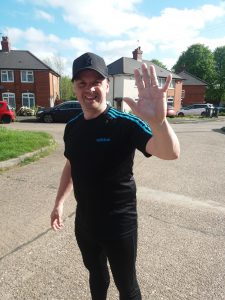 So along came Poppy who also prefers running off road. We started running… so many things going through my mind. I wonder if I will see another tealster? I wonder how many other people are doing this now? I wonder if people will do this run? Then my thoughts return back to John. I didn't have Poppy then but John regularly ran with his little Jack Russell, Monty. Wondering if we may have ran together with our dogs if I wasn't doing this. At nearly 2 miles in though my train of thought was broken; a big dog ran over to Poppy and started growling, Poppy screamed and I got all flustered. Luckily the owner came over and put his dog on a lead and apologised. I think I must have been in shock as I didn't even say anything. Anyway it was just after this that I thought it was a good time to take our selfie and to make sure Poppy was OK too. She was fine and we carried on together. The last mile home my thoughts were changed into concerns over Poppy. We got home in one piece and that was our 5k for John.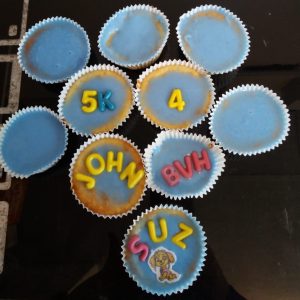 Later that day I tried my hand at baking. I've never baked for Johns parkrun before as I'm always organising and well my skills don't lie in that department! I had sourced a cup cake mix and pale blue food dye, along with chocolate letters. Lets just say I've learnt how not to ice! My cakes may have looked edible but the verdict was just really. Something to work on for next year maybe.
I was drawn to look at our Facebook page one after another #5kforjohn with selfies so many different routes. I knew Rachel, John's wife was also looking at all of this. It all got very emotional for me personally. A mix of missing John, Remembering John, feeling alone but together, being disappointed we couldn't be at parkrun, missing my running buddies, feeling proud of Bournville Harriers and the current lockdown situation in general. The pictures of cakes kept coming in over the week as did the 5k. We have some very talented bakers amongst us at Bournville Harriers.
We raised over the target set for the BHF. We remembered our fellow runner and BvH and I feel very proud and privileged to be part of Bournville Harriers.
https://www.justgiving.com/fundraising/bvh-runforjohn-bigbakeoff