Lesley Pymm reports:  With Storm Hannah bashing on the caravan near the sea front at Prestatyn overnight and parkrun having been cancelled the day before owing to the winds, I was a little concerned about this one!  I had walked up to the Race HQ the day before and could hardly stand up.  Anyway, the wind had dropped by the morning of the run.  It was an early start.  This event was one where you had to estimate your time and the slower ones were started first.  There was a 1/2M and a full marathon.  My marathon days are well and truly over, so it was the 1/2 for me.  Although the wind had dropped, it was very cold so I wore a gillet over a long sleeve top – sorry no teal for me!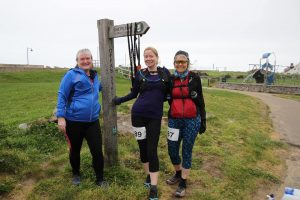 We had to carry full kit, including map and compass.  There were a few checkpoints where we could refil our water bottles and we got scanned there as well. For the 1/2 it was just two checkpoints.  It was self- navigate until the very end when it was marked.  This was pretty easy as it was following the Offa's Dyke path signage, although some did go wrong .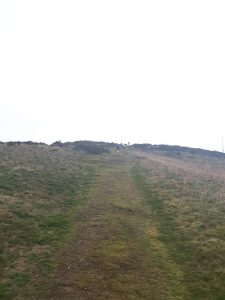 After a briefing, I was started with a couple of other runners at 8.15.  We had the boring bit to do as we had to run through Prestatyn.  We were soon out of town and able to look down on it as we headed off along Prestatyn Hillside Nature Reserve.  This was a bit 'technical' as there were tree roots and rocks – and I have lost a lot of confidence on the hills since my fall.  Then it was a bit of field running and along to Marian Mill Farm where the route took us past the lambing sheds.
The next bit was a bit of a climb up Marian Ffrith which would have been good to explore with more time as there was a tumulus and cave there according to the OS map!  After a bit more field running it was onto the road and along to the first checkpoint at about 6 miles.  I was still feeling pretty good – although I had taken forever to run 6 miles it seemed.  Anyway ON ON!  More fields but going uphill.  As I ran up and over stiles which seemed to get increasingly more difficult to climb, a couple of blokes were coming the other way with mountain bikes!  It seemed they had got lost so I was able to point them in the direction of the road.
The route started to get harder as I was in the Clwydian Range and running over Moel Maenefa.  There was a very boggy bit that I couldn't be bothered to avoid.  I came out by a gate where a group of cattle was blocking the way.  Being the Offa's Dyke Path, they must be used to people, as they moved away for me.  Onto a bit of road running now which was an easier bit before the next climb up to Cefn Du and then along to Sodham (no comment).  Round here the route passed by a hill fort, but again no chance to have a look.  A faster runner passing me here pointed to the large hill ahead of us and commented that it was not funny having to finish on that!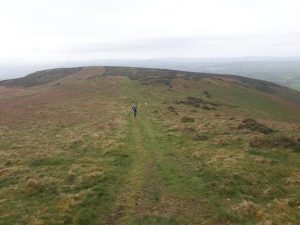 Onto the road and the first sign of marshals as we crossed the main road and then along to a bridge over a small stream.  Over the field and onto another bit of road,  I was approaching the second checkpoint and have to admit that I was walking.  I got scanned and was directed up the road.  Just follow the marking he said.  It was never ending.  There were people who had finished coming down the hill as they had to get back to the main road for transport back.  They were all very encouraging.  I turned off the road and onto a path, this was still going up and there was no way I could run.  It was all I could do to walk.  Then it was onto open hillside and I really started to feel it.  I could hardly move and really came close to giving up.  It was a case of two steps forward and stopping.  Then another two steps.  Strangely my wrists and hands were hurting as well as everything else.  A man coming the other way said: 'Just lean forward and keep your legs moving' – and that was pretty much all I could try to do at that stage.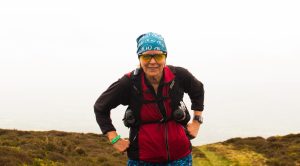 Eventually I saw the summit marshal ahead and staggered to him and, with relief, was scanned for the last time.  I joined the heap of exhausted runners on the ground and stuffed some food and drink down before starting to walk back down again – the two miles to the bus back to Prestatyn.  I think the walk did me good.
It was a very well organised event and I loved it with hindsight.  I would do it again, but hopefully after a better build up to it.  It was actually 14 miles from Prestatyn to the sumit of Moel y Parc and the last mile and a half or so took me 49 minutes.  I was so pleased to finish it!