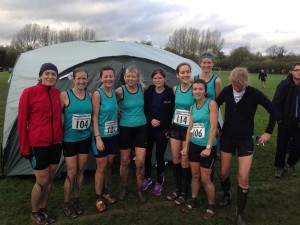 I thought as it's the end of the season I would write a round-up of races and achievements. So this isn't a race report more of an end of season overview.
When I took up the role as cross country captain one of my aims was to try and get a few more people interested in cross country. Over the season I have discovered some reasons people are put off one theme was your all too fast I'm not fast enough. Ok so scorers will be fast but the rest of the team are not all speedy and any way with practice maybe you will become a scorer. My own personal goal was to try and score once for the masters which I did at Northampton race.
The season started off with the usual relay races and there were a few debuts here Emma Hopkins , Nicola Morris , Linda Goulding and Monica Baptista. My personal favourite of these races was Linda Howell and myself on the start line waving as Laura Gale took photos, clearly not taking it seriously. Well until the gun went.
The league races started with the usual Leamington Course muddy, hilly and the famous ditch. Our team got off to a fantastic start with Nic Sykes , Katie Young and Linda Howell scoring. Nic showed us how it was done on every race she ran in ending up at Parliament Hill with a well earnt 6th National Place.  Katie Young scoring second in the Leamington race which was her cross country debut for bvh she showed us how the hills of Bristol make you an awesome cross country runner. Unfortunately we were without Katie until the nationals due to an injury but she came back strong being our second scorer in the nationals.(This was with normal trainers on, which is pretty amazing as I personally was having trouble standing up with spikes!)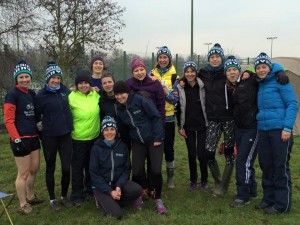 In December we set off for a five mile race in Wolverhampton and this was a perfect opportunity for me to sign up Stacey Marston who would be running in her home town! My plan worked and Stacey made her debut here, also she bought along nice chocolate cake courtesy of Guy very nice it was too!
The second League Race was at Northampton buy this stage of the season Emily Holden had shown great progress and it was my heels she was hot on. We had a bit of a race going around the course but I only just about managed to take the lead and was quite happy with myself that my own personal goal of trying to score as a master was achieved here. Other scorers were Marianne and Sarah Rock for the masters who both showed strong consistent performances through the season.
Next race was my personal favourite were I was at my best and had a great run but also were we won a silver with our speedy team of Nic Sykes , Caroline Harlan Marks and Laura Leslie who was also a consistent strong runner and scorer throughout the season. This is the race I was closest to Sarah Rock probably the closest I've ever got in any race I was more than happy with my own performance. This also was the race that we witnessed Laura Gale working her way towards the front of the pack overtaking myself, Sarah and nearly Marianne. This was just a sign of things to come from Laura who had been working hard to improve her running and by the end of the season was finishing as a scorer and in the top three of our runners. Really this was quite incredible to watch. Also at Cofton we had debuts from Clare Butler and a return to cross country from Lesley Bryne as I assured her this race was ideal half marathon training for the half she has scheduled in Wales. Lesley put in a strong performance and also did well in her half marathon.
The next race was the Midlands Area Championships unfortunately I had managed to pick up some kind of bug and had to pull out. So Jude Glynn took over from me Jude a regular part of the team who also shows strength and consistency on the field. Jude assured me everything was going to plan and Collette this time making her debut was enjoying herself. I was disappointed I had to miss out but also grateful for the txt and concern about me from the team.
The next League race was Droitwich, now this course was technical but also had a bit to much tarmac for my liking and also quite a few of us found we got bottle necked and lots of stopping and starting was going on. Laura Gale however flew around as she got stronger and faster throughout the season. Linda Howell put in another impressive performance without spikes as she had been plagued by injury throughout the season despite this Linda ran well each time she raced.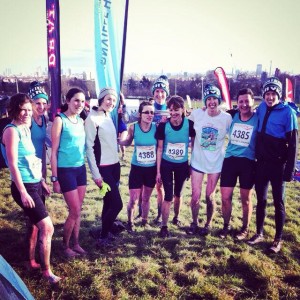 The last league race took us back to Wolverhampton and Stacey Marston had now become a regular at this. Grainne Bermingham bought a new level of enthusiasm with her on her debut at this race and showed us all how a sprint finish is meant to be done. I was becoming increasingly aware of Monica getting closer to me she told me after she had to stop and do her shoe lace up on this race I thought well if that had happened you would have probably caught me up. Monica has got stronger and more confident throughout the season. Unfortunately the last league race we were relegated despite a great team effort. However our masters team finished in a strong position. I believe we are in a strong position to come back up next season. I had some trouble understanding where half way was in the league as it is not made very clear. I now know that the top 12 teams are in the first division and the rest are in second despite there being 37 teams adding to my own confusion.
Next season the league races may be different held at different venues and possibly with division one and two running in different locations. The ladies cross country AGM  is in a few weeks so I will keep people updated.
The last race took us to London Parliament Hill. This was a really tough race one I was having a problem running well just going forward was becoming an issue for me. At one point I did catch a glimpse of Nic running the opposite direction quite clearly at the front end of the race as I was messing around in the mud! Laura Gale and Katie Young working together finished within seconds of each other, closely followed by Laura Leslie and that was our team of scorer's finishing 12th in the Nationals which is an amazing achievement well Done. This race surprisingly for me to learn was Lesley Pymm's first nationals surprisingly as Lesley is always there part of the cross country team and I always love the way Lesley talks so passionately about her running. She is very inspirational.
So that's it then my cross country round up of 2014/15 season. I hope to grow the team further next year and have taken on board reason people are put off and hopefully proved that any one can enjoy cross country. The team is strong and going from strength to strength well done every one that took part in cross country. Also thanks for all the support as captain especially from Paul Thompson and Nicola Cumley.