Congratulations to all of those brave individuals who battled their way up Clare Hill on a sweltering July evening last Thursday night in our annual Killer Mile race. The overall winner this year and first man over the line was Gareth Cadd in a time of 05:55. The first female home was Caroline Harlan-Marks in a time of 06:48.
Big thanks go to Sue Ward for lending us her vast race organising experience, as well as to all of our  marshals – especially those who just innocently turned up to watch and got drafted in! Special thanks as well to our new BvH Events Manager John McKeon, who did a great job organising his first race. Lastly, a thank you to BvH Artist in Residence Ed Hartley for designing the brilliant "King of the Hill" t-shirts for the winners.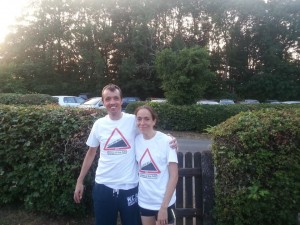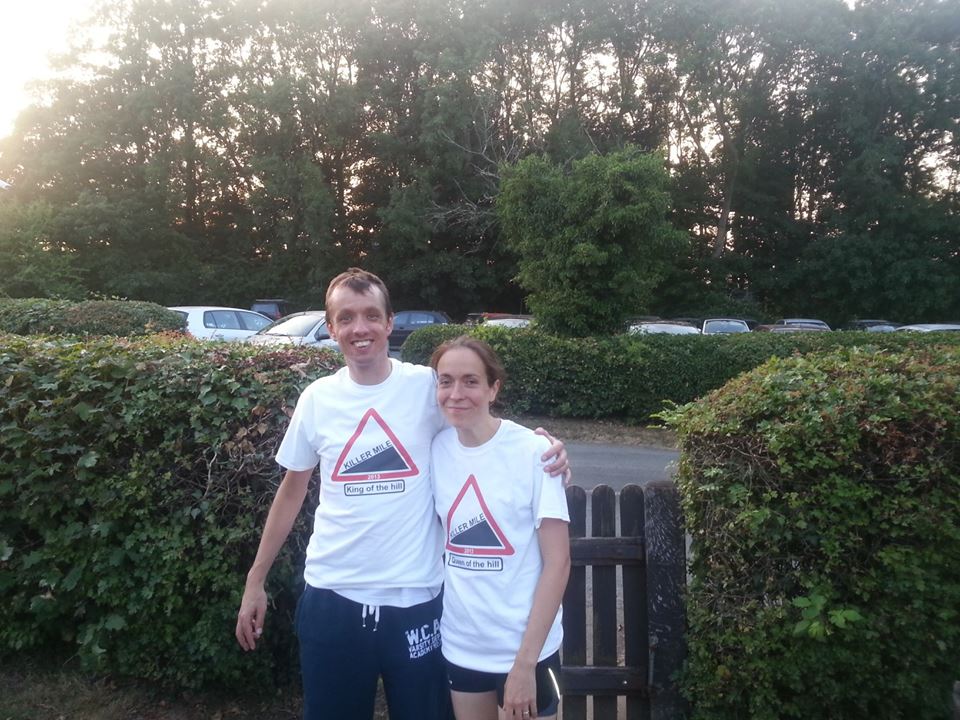 Results can be viewed below or downloaded as an Excel spreadsheet here.
Please send any corrections/queries to info.
| | | | | |
| --- | --- | --- | --- | --- |
| 1 | Gareth | Cadd | 00:05:55 | M |
| 2 | James | Collins | 00:06:09 | M |
| 3 | Simon | Hopkins | 00:06:12 | M |
| 4 | Oliver | Kirkland | 00:06:24 | M |
| 5 | Matt | Slater | 00:06:28 | M |
| 6 | Chris | Harlan-marks | 00:06:30 | M |
| 7 | David | Bristoll | 00:06:36 | M |
| 8 | Andy | Hall | 00:06:39 | M |
| 9 | Paul | Gorman | 00:06:44 | M |
| 10 | Caroline | Harlan-marks | 00:06:48 | F |
| 11 | Andy | Wheeler | 00:06:58 | M |
| 12 | Kevin | Oakes | 00:07:01 | M |
| 13 | Dave | Harte | 00:07:03 | M |
| 14 | Stuart | Mcleish | 00:07:16 | M |
| 15 | Ed | Hartley | 00:07:18 | M |
| 16 | Stuart | Pearson | 00:07:19 | M |
| 17 | Marianne | Hensman | 00:07:22 | F |
| 18 | Sarah | Rock | 00:07:22 | F |
| 19 | Oliver | Crouch | 00:07:26 | M |
| 20 | Laura | Leslie | 00:07:27 | F |
| 21 | James | Gittins | 00:07:36 | M |
| 22 | Julie | Delahaye-Slater | 00:07:37 | F |
| 23 | Jack | Robberts | 00:07:41 | M |
| 24 | John | Hayward | 00:07:50 | M |
| 25 | Mark | Allen | 00:07:51 | M |
| 26 | Simon | Newman | 00:07:52 | M |
| 27 | Laura | Gale | 00:07:53 | F |
| 28 | Bob | Hockenhull | 00:07:59 | M |
| 29 | Jon | Mould | 00:08:08 | M |
| 30 | Jude | Glynn | 00:08:19 | F |
| 31 | Jim | Clarke | 00:08:24 | M |
| 32 | Emma | Hopkins | 00:08:30 | F |
| 33 | Daniel | Trimm | 00:08:34 | M |
| 34 | Emily | Holden | 00:08:40 | F |
| 35 | Tony | Hall | 00:09:06 | M |
| 36 | Monica | Baptista | 00:09:07 | F |
| 37 | Becky | Lesniak | 00:09:31 | F |
| 38 | Lesley | Pymm | 00:10:00 | F |
| 39 | Allen | Green | 00:10:37 | M |
| 40 | Allen | Orr | 00:10:46 | M |