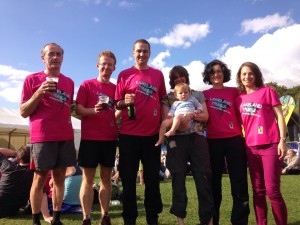 10k Derwentwater Trail Race – by Emily Holden
When I first heard the suggestion of a Bournville Harriers weekend in the lake district with a trail race included I thought it a fantastic idea. I'd never entered such a race before, but as a Devon girl born and bred, and having tackled a few of those 'undulating' coastal paths on visits home, I thought I could give it a go. So, armed with my first pair of trail shoes, I set off on Friday evening to battle with the M6.
A mere four hours later, with Andy Hoole's navigational encouragement, we arrived in Keswick just in time to say a brief hello to Laura Leslie, Paul Gorman and John Cheel, and to enjoy a cone of very excellent chips: perfect pre-race carb-loading.
For accommodation, our small party of eight were a little scattered around Keswick as we'd each chosen what suited us and what was available. Having left my booking rather late, I was pleasantly surprised by my little B&B, and even more pleased when I struck up conversation with a friendly woman and her 5 year old son at breakfast. "Are you running today?" I asked. "No I'm overseeing the races. My partner is the race director – he left at 6am to set up." I imagine at this point a serious runner would have proceeded to ask questions about the race course. I alleviated my pre-race anxieties with: "It does start at 11 doesn't it? Is there somewhere to leave bags?"
Having arrived after dark the night before, as I left the B&B I was struck by the incredible view of the morning mist drifting over the mountains ahead. It turned out to be only a few minutes' walk to Fitz Park where I met up with Laura, Paul, Nicola and Steve Cumley, and top BvH supporter Thomas, somehow still sporting his club vest at the grand age of one year. There were a number of different races scheduled, tailored to different levels of experience and/or courage. The sensible amongst us had opted for the morning 10K 'Trail Run' whilst Andy and John would be braving the 15K 'Trail Race' in the afternoon. Both arrived in time to support our departure alongside Laura's parents, Stuart and Judy.
Beautiful blue skies and an impressive band of samba drummers saw us off on a lap around the park before we headed out along a disused railway track for around two and a half miles. During this relatively long and fairly flat part of the course, I started thinking about my race strategy. How long since I'd run a 10K? It was flat so far, but should I be going at my usual 10K pace, whatever that might be, or saving myself for the hills?
When the inevitable moment came and we finally turned off the track, the initial hill was so steep that it seemed irrelevant what had come before. At this point I decided that to keep running at all was enough of a goal for this race, never mind how quickly. Technically, I don't think it was running, but I tried to stay on the balls of my feet in a running-type motion.
Whoever the marshall was that said to me "Not much further now, you can rest at the top soon": he lied! Once we'd started climbing, we continued upwards for a couple of miles, and even when the incline reduced a little, it was difficult to recover enough from what had come before in order to regain any pace. It didn't help that this section of the course was entirely exposed to the nearly-midday sun, and it was hot! I tried to look up occasionally at the stunning views around us, and hold this experience alongside the pain in my legs and lungs.
It was very much a race of three thirds, and once we finally reached the summit and started on the descent, it was down hill all the way. We were treated to a single water station and an encouraging sign: "Smile! Photographer ahead". I remembered the downhill running advice I'd once had from Stuart Leslie and tried to let myself go. It did feel more like falling than running, but I figured the more I fell, the less energy I'd be using and the faster I would be moving! Perhaps my coastal path training was paying off here if not on the ascent, as I flew past several more cautious runners. Suddenly I was back in the park, and the dummers helped boost me along for a strong finish.
All agreed that the race had been one of the hardest we'd ever tackled, but that hadn't stopped Laura achieving third placed female and Paul coming seventh overall. Only one year on from having Thomas, Nicola enjoyed her accolade as the only competitor in view not to have walked up the hills, and still managed to appreciate the scenery.
With my post-race brain not yet fully engaged, it took some time (and a little help from Andy and IMDb) to work out that two runners I recognised were from the cast of Bluestone 42, a comedy on BBC3. It seemed difficult to interest anyone else in this fact (has no-one else seen it??) although Andy was very polite and even took a photo of me with one of the actors when I accosted him after his race later in the afternoon.
Those of us finished for the day headed up into the hills to cheer on Andy, John and the rest of the 15K field, including an interesting stag party (see Facebook for further details!), and made it back to the park in time to see them in to the finish.
Personally I tend to reach for the water after a race, and perhaps something sweet. Others, it seems, have different preferences for post-race rehydation, and the men soon had beers in their hands. As we sat around on the grass in the sunshine listening to a singer-guitarist, I felt I might be at a festival rather than a race event. Much excitement ensued as we applauded Laura receiving her prize and taking her place on a podium!
We celebrated our success with an evening out in Keswick, a Thai meal and drinks in a pub where we happened to be sitting next to a group of Bluestone 42 cast (a coincidence, honest!)
In true BvH style, on Sunday morning we all made it out at 7.30am for a short jog along the early, flat part of the race route, in an effort to loosen our stiff muscles. Back at the B&B, I met the race organiser Graham Patten over breakfast. I heard how he and his partner Claire had set up the Lakeland Trails races in response to his experiences as an international fell runner racing in Europe, and the lack of any races in the UK that compared on either organisation or atmosphere. Their races are designed to be accessible to anyone who wants to take part, and so alongside the 10K and 15K races they include a 15K 'Trail Challenge', which can be walked or run with a generous time limit. All courses are clearly marked and marshalled, and runners are always counted out and in again to ensure no-one is missing on the course. I asked about the question of walking during a fell race, and Graham assured me that it is better to walk when the gradient is too steep, and go for a longer stride, then start running again when the gradient eases: the ability to know when to transition apparently comes with experience.
After breakfast we reconvened to round off a marvellous weekend with a walk up to Latrigg in yet more beautiful sunshine, retracing part of yesterday's race route in reverse, and taking the chance to appreciate the views at a less painful pace.
Huge thanks to Laura and Nicola for having such a great idea in the first place and for organising such an enjoyable weekend. See you all there next year!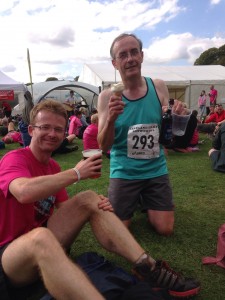 15k Derwentwater Trail Race – by Andy Hoole
When I decided to go on the BvH Weekend Away I unthinkingly signed up for the 15k race reasoning that since it was such a long way to go, it would be better to do a longer run. No-one else seemed to agree with my decision and treated it with either bemusement or horror. Luckily John Cheel was also brave enough to enter the event so there was a bit of company in Fitz Park to cheer on the other members of the touring party as they started the 10k race, the first event off on Saturday morning.
My sense of apprehension increased as Paul Gorman crossed the line in a fantastic seventh place. His reaction was to lean against the barriers with a far away look in his eyes and slowly shake his head. The others also finished with great times, but similar sentiments, leaving me with three hours to contemplate what I had let myself in for.
Just before two o'clock we were called to the start line by the band of drummers and were soon away with an initial lap of the park. Our race followed the first part of the 10k along the old railway line which was flat enough to lull you into a false sense of security, but when the climb started it did so with a vengeance.
My plan to save energy by walking the steepest sections fell apart quite quickly as the rest of the BvH party has driven to one of the steepest sections to cheer us on and pride prevented me from walking in front of them! Although the gradient eased off as we passed out of their sight, the course was still climbing steadily for another 4km and the terrain changed to something more challenging – first loose rocks from a landslide and then a bog. Seemingly every footstep went deep into the mud and I walked the final steep section onto a firmer path.
My confidence to a further knock when I glanced up and saw runners on the other side of the valley reaching the highest point of the course, which by my rough calculations looked at least another 300ft higher. I started to run again, determined to maintain some sort of pace. The last bit of climb was more of a scramble, with another walking section, but I made it to the highest point of the course to be rewarded with an amazing view back down the valley and an unnervingly steep drop off to one side.
Although the path down was loose, I managed to get into a rhythm and soon found myself at the solitary water station at 13km. Passing it I could see Keswick below, which meant that the descent was going to be extremely steep. Just how steep swiftly became evident and to be quite honest it was a bit terrifying – more like controlled falling! Thankfully, I soon reached the outskirts of the town and a final small climb into some woodland.
My pre-race recce told me that this marked the boundary of the park and a welcome finish. I tried to muster a bit of a sprint as I entered the field with crowds enjoying the sunshine. The rest of the BvH group had made it back and gave me a big shout as I crossed the line feeling absolutely exhausted.
I was pleased and surprised with my time, these sort of races aren't really against the clock but more about pitting yourself against the challenge of the course. Certainly this was one the most difficult I've ever attempted but I was glad that I did it. My final order of business was to grab a well-earned beer and settle down in the sun to cheer John home before toasting a successful and really enjoyable trip away.
Here's to the next one!
278 people completed the 10k:
Position
Time
Name
Club
7th
00:43:08
GORMAN, Paul
Bournville Harriers
13th (3rd female)
00:46:31
LESLIE, Laura
Bournville Harriers
45th
00:51:45
HOLDEN, Emily
Bournville Harriers
125th
01:01:03
CUMLEY, Nicola
Bournville Harriers
178 people completed the 15k:
Position
Time
Name
Club
23rd
01:11:39
HOOLE, Andy
Bournville Harriers
174th
01:49:35
CHEEL, John
Bournville Harriers