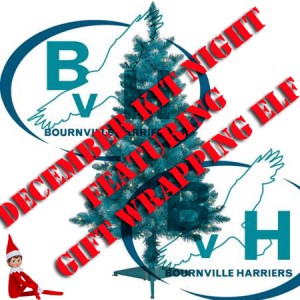 From Club Kit Supremo, Laura Gale:
Hey Tealsters!
The last kit night of the year is upon us this coming Monday the 21st December. 8-9pm in the changing room block.
It's going to be a festive one with a gift-wrapping elf (The elf will be wrapping kit items only might I add. Please don't expect the elf to wrap your kids bike and your aunts foot spa. The elf will not wrap these items.)
I'm still pushing my double sided reflective long-sleeved running tops (£22), and I've got a fresh delivery of hi-viz bibs (£17) but the clip-in flashing LEDs are now available in a variety of colours too!! Not just red – but pink, white and yellow. I've also stocked up on the unisex training jackets. These are £26, or just £16 if you have run in our Cross Country or Road Relay teams. I have a whole host of other last minute stocking fillers for under a tenner: teal laces, car stickers, flashing armbands, drawstring rucksacks and sweat bands.
I've got quite a pile of items that have been 'reserved' or paid for by various members. If your name is here, then please come and collect the items, or let me know that you no longer want them:
Luke Cordiner, Katie Thomas, Clare Mullen, Abhisher Chauhan, Andy Hoole, Sarah Grocutt, Jo Whiting, Lisa Cartwright.
See you on Monday runners,
Laura