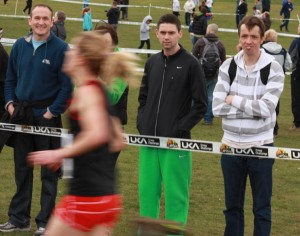 Have you ever spent several hours standing around like this at a BvH-organised race? (Possibly in the rain?)
If so, you may be entitled to some points.
Runners competing in the Bournville Harriers 2012 Grand Prix can score an extra 5 points for each club-organised race for which they turn up to marshal or help out in some capacity. You can claim your bonus(es) by entering your name into this spreadsheet, and putting "YES" in the box corresponding with each race where you helped out.
These extra points will be added to your total score once you've completed your minimum 8 races, along with the other two one-off bonuses (awarded for competing in team events and BvH-organised races – see scoring ).
For anyone confused by the scoring system, please have a look at page 3 of the 2012 Grand Prix Guide (pdf document).