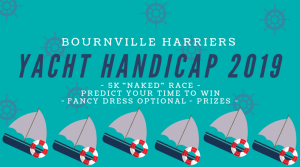 It's nearly time for the Yacht Handicap 2019! Pair up with a friend or take on the individual challenge to predict your 5km time and run 'naked' (i.e. without a watch). Prizes will be awarded for accuracy (and for team names, costumes or whatever we decide on the day!)
The race will be on the usual 5km route, starting on Rowheath Playing Fields. Time: 10am, 19th April 2019. 
To enter the race please complete the form here (one per team): Yacht Handicap Entry 2019.