The Warwickshire Cross Country Championships were held on Saturday 4th January 2020 at Warley Woods, Smethwick.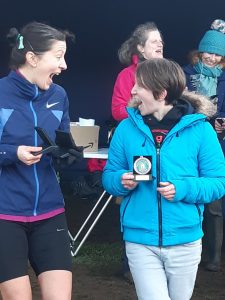 In the c. 6km women's race the Masters took Bronze in the Warwickshire competition with Monica Baptista in 10th place, Alison Price (14th), and Laura Gale (24th). The Senior Women's team finished 4th out of the 11 clubs represented, with an excellent 7th place in the Warwickshire competition and 10th place overall for Imogen Peck, joined by the other scorers for the Senior Women's Team, Team Manager Rhian Littlewood in 18th closely followed by Maeve Kenny in 19th place (respectively 32nd and 33rd overall) and excellent supporting performances throughout the squad of 21 Bournville Women.
Both Men's Senior and Masters Teams finished 5th in their respective Warwickshire competitions against stiff opposition on the c.10km course, with the Senior Team scorers comprising James Ashley (23rd Warks Senior, 73rd overall), Jonathan Stanforth (32nd), Jon Mould (41st)  and Ben Dodd (47th). The Masters Team counters were Mat Pollard, who was also the first Harrier home (6th Warks Masters, 33rd overall), Richard Keep (15th Warks Masters), Stuart Pearson (34th), closely followed by Stephen Forcer (36th). Well done to Ian Mackenzie, the Men's Team Manager for fielding a squad of 22 Bournville Men; the most represented of all the clubs.
The teams commented on the quality of the encouragement from fellow BvH runners and non-running supporters (including those on the injury bench, who still turned out to lend their vocal chords) and it was great to have both Men's and Women's XC squads together in action.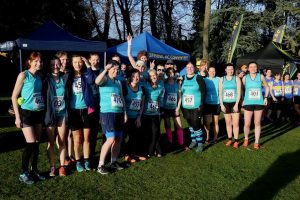 Next week the XC squads are back in action in the third of the League races, both Men's and Women's teams are fighting to retain their place in Division One in their respective leagues. The Women's team travel to Park Hall Country Park in Trentham, while the Men will be hosted by Rugby and Northampton AC at Abingdon Park, Northampton. If you'd like to take part please contact the Team Managers, Rhian Littlewood (women's) or Ian Mackenzie (men's).
Results – Women
| | | | |
| --- | --- | --- | --- |
| Overall Position | AC Position | Time | Name |
| 10 | | 22:07:00 | Imogen Peck |
| 32 | | 23:58:00 | Rhian Littlewood |
| 33 | | 24:06:00 | Maeve Kenny |
| 42 | 10 | 24:33:00 | Monica Baptista |
| 48 | 14 | 24:57:00 | Alison Price |
| 60 | | 25:48:00 | Laura Leslie |
| 64 | 24 | 25:58:00 | Laura Gale |
| 73 | 29 | 26:41:00 | Sara Hewison |
| 75 | 30 | 26:46:00 | Charlie Hurd |
| 85 | 35 | 27:43:00 | Sarah Rock-Webster |
| 87 | 37 | 27:45:00 | Jaeda Goodman |
| 89 | 38 | 27:48:00 | Emma Whigham |
| 93 | 40 | 27:56:00 | Sam Pretlove |
| 115 | 52 | 28:39:00 | Jude Glynn |
| 121 | 54 | 29:21:00 | Helen McGettrick |
| 138 | 62 | 30:21:00 | Suz West |
| 167 | 79 | 32:58:00 | Nicola Tautscher |
| 171 | 81 | 33:20:00 | Caroline Ankcorn |
| 199 | 101 | 40:13:00 | Lesley Pymm |
| 204 | 106 | 44:25:00 | Claire Daniels |
| 205 | 107 | 44:26:00 | Linda Goulding |
Results – Men
| | | | |
| --- | --- | --- | --- |
| Overall Position | Age Category Position | Time | Name |
| 33 | 6 | 32:04:00 | Matthew Pollard |
| 65 | 15 | 33:29:00 | Richard Keep |
| 73 | | 33:50:00 | James Ashley |
| 109 | | 35:11:00 | Jonathan Stanforth |
| 112 | 34 | 35:14:00 | Stuart Pearson |
| 118 | 36 | 35:31:00 | Stephen Forcer |
| 128 | 40 | 35:47:00 | Grant Whigham |
| 134 | | 36:09:00 | Jonathan Mould |
| 142 | 44 | 36:30:00 | Andrew Hoole |
| 147 | | 36:38:00 | Ben Dodd |
| 149 | 46 | 36:42:00 | Andrew Wheeler |
| 157 | 48 | 37:13:00 | Simeon Whiting |
| 161 | 51 | 37:28:00 | Adrian Fowler |
| 174 | 60 | 38:10:00 | Matthew Slater |
| 217 | 85 | 40:54:00 | Steve Morton |
| 232 | 96 | 42:15:00 | Ian Mackenzie |
| 247 | | 43:53:00 | Gary Buckley |
| 248 | 106 | 43:56:00 | Peter Hickman |
| 249 | 107 | 44:02:00 | Mike Woodall |
| 268 | 122 | 46:54:00 | Rob Styles |
| 272 | 125 | 47:39:00 | John Cheel |
| 273 | 126 | 48:22:00 | Kevin Peace |