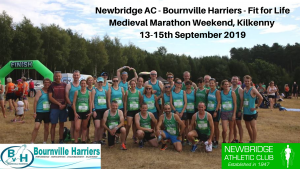 A date and race has been agreed for the third annual BvH & Newbridge AC meet-up. The previous weekends have been a great success in promoting links between the two clubs and within the clubs with the opportunity to travel and socialise together, although we can't guarantee that we'll continue the run of glorious weather for the previous weekends which were hosted by Newbridge and Bournville.
The historic town of Kilkenny, in southeast Ireland is our destination for the Medieval Marathon: https://www.medievalmarathonkilkenny.com/. There are four distance options, from 10k to Full Marathon, with the races taking place on Saturday 14th September at 12 noon (not 1pm as advertised). For those who would like something shorter but who still want to enjoy the weekend and spectate (or a warm-up!) there is a parkrun in the town (note that parkruns start at 9:30am in Ireland): https://www.parkrun.ie/kilkenny/. There is plenty to do while the races are on for those who would like to come and spectate and enjoy the rest of the weekend but who do not wish to race.
We have secured a 10% discount, using the code NewbridgeAC19 at the following link, and it's advisable to book your entries as soon as possible: https://www.njuko.net/medievalmarathon4
Accommodation and Transport
You're welcome to search for alternative accommodation of which there is plenty in Kilkenny, but we'd recommend the Ormonde Hotel: https://www.kilkennyormonde.com/ and there should be sufficient rooms for all of us travelling from Birmingham and Newbridge to be in the same hotel. Again, book early to avoid disappointment.
For those travelling from Birmingham, there are various options for flights from Birmingham International to Dublin. We would recommend travelling on Friday, because of the race start time on Saturday, and travelling back on Sunday, to enable us to take advantage of the race After-Party in Sullivan's Brewery Taproom and the Kilkenny nightlife. Onward transport from Dublin to Kilkenny and back on Sunday will not be arranged for you but please do connect with others on your flight so you can discuss the best options and have others to travel with.
Contacts
The joint Facebook group is the best place to connect for meeting points, Q&A etc. Join here: https://www.facebook.com/groups/387592171636553/
If you have any questions that can't be answered there or you're not on Facebook your contacts are as follows:
Bournville Harriers – Stacey Marston and Kristy Mabbett
Newbridge and Fit for Life – Peter Moran and Séamus Cardiff
We're also hoping to have a souvenir available to purchase for those who would like a memento of the weekend, further details to follow.
We hope that you'll join us for what is sure to be a fun and friendly weekend with some great racing!