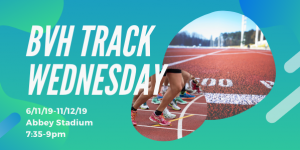 For all those who have signed up and are taking part in the BvH track sessions, Wednesday 6th November is the first session of our 6 week track training.
1. The session takes place at Abbey Stadium sports centre.
2. There is parking for those who drive. A group are getting the train and will do a 1 mile jog to the track.
3. We have entry to the track from 7:35 onwards. Please do not go on to the track before this time.
4. The warm-up jog, unlike Thursday, is your responsibility. We START DRILLS AT 7:45.
5. On arrival at the track please speak to Tom Bunn with the correct cash payment either for one session (£2:50) or all (£14).
6. The session itself is a secret until the session starts.
7. There are toilets at the leisure centre, but any personal possessions must be left on the track so please do not bring anything valuable and avoid bringing large bags if you can.
8. A warm down of at least 800m is essential. We'll also do some stretches at the end.
9. Tom will welcome any feedback on the sessions
Thanks again to Tom Bunn for organising the programme.