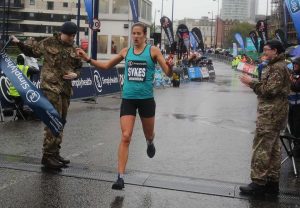 Cast your mind back to October and the fantastic performances on the rainy streets of Birmingham; we have had confirmation of our second place in the Great Birmingham Run Club Competition for the third year running, just missing out to Birchfield Harriers.
The four fastest men and four fastest women win their entry for next year's half marathon. They are: Richard Bayliss (who was 14th in 1:15:08), Paul Thompson (1:15:24), Kev Morris (1:16:53), Harry Thorpe (1:18:56), Nicola Sykes (1st in 1:19:57), Alison Price (1:34:12), Fiona Barker (1:44:54), and Liz Bradley (1:46:28). Congratulations to all who took part.
Entries for the Great Birmingham 10k (where BvH won the 2018 Club Challenge) are open now!