The Pyjama Pursuit is back for 2018! Sunday 30th December at Rowheath Playing Fields. Click this link to sign up and this link for the route.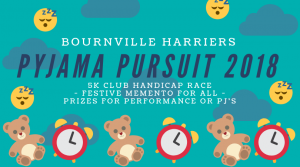 The emphasis in this event is on giving your best 5k performance of the calendar year. Dig out your best parkrun or 5k race time of 2018, and that will determine your start time for this race. Every athlete's Season's Best time will be subtracted from a fixed time-of-day, such that if everyone matches their best time of 2018, then you will all cross the finish line simultaneously. So it's first-past-the-post wins! Anyone who is in their best form right now, stands a great chance of winning. The exact time-of-day is yet to be confirmed, but will be early afternoon, such that both the cafe and bar will be open.
Festive snacks all round! Trophies for the top 6 finishers! Extra prizes for best night attire! It's not compulsory, but it helps keep you warm!
Please do not leave it late to sign-up for this event. It will be much easier to administer last minute withdrawals that last-minute additions.