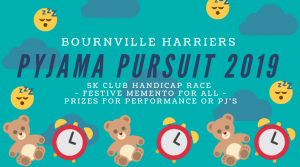 The Pyjama Pursuit is a "twixmas" 5km competitive race for club members only; it starts at approximately 11am on 29th December 2019. You don't even have to get changed out of your jim-jams to join in!
All athletes are handicapped by time, based on best 5km / parkrun performance of 2019 (Jan 1st to race date). The athlete with the slowest time starts first, and the one with the fastest time starts last. First to cross the finish line wins! There will be a festive memento for all competitors (pyjamas are not compulsory).
Provisional "finish" time of day 11:30am. Your start time will be '11:30am minus your best time of 2019′. To enter click here. Closing date for entries: Friday, 27th December.