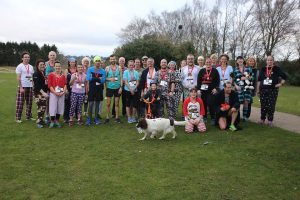 The second annual Pyjama Pursuit was another great club event; a level playing field for all runners to try to beat their best 5k or parkrun time of the year, and to compete in an exciting handicap race where anyone can win. Most of the runners failed to change out of their twixmas attire for the event, giving the Bournville locals the chance to see some of Team Teal taking the running very seriously, whilst simultaneously trying to keep their pyjama bottoms up, or keep their rollers in (Jo "Nana" Green); or in Chairperson Dave Powner's case, to hold onto his candlestick!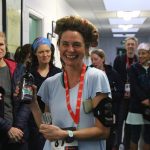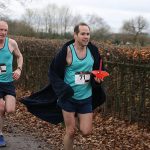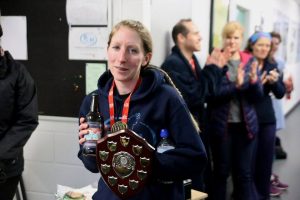 Prizes were awarded to the top 3 male and top 3 female runners along with various spot prizes. Katie Alldrit-Rose was the overall winner and her name will be engraved on the new perpetual shield.
Thanks to Sue Ward, Dave Powner, Rachel Ward, Linda Goulding, Lynda Batchelor and photographer Pete Hickman, as well as all the supporters on the day and well done to everyone who raced.
Results in finishing order, with time and difference from Season's Best:
| | | | | |
| --- | --- | --- | --- | --- |
| 95 | Katie Alldrit-Rose | 00:27:17 | – | 00:02:43 |
| 87 | Jo Green | 00:24:00 | – | 00:00:39 |
| 100 | Claire Daniels | 00:37:06 | – | 00:00:14 |
| 90 | Collette Greenhouse | 00:25:43 | – | 00:00:10 |
| 76 | Sara Foster | 00:22:22 | – | 00:00:06 |
| 94 | Suzanne Bunn | 00:29:35 | + | 00:00:09 |
| 72 | Mike Greenhouse | 00:21:52 | + | 00:00:29 |
| 74 | Dave Harte | 00:20:20 | + | 00:00:30 |
| 66 | Kevin Morris | 00:17:26 | + | 00:00:31 |
| 69 | Simeon Whiting | 00:19:52 | + | 00:00:44 |
| 68 | Stephen Forcer | 00:19:02 | + | 00:00:48 |
| 73 | Mike Woodall | 00:22:38 | + | 00:00:52 |
| 80 | Umar Hassan | 00:24:12 | + | 00:00:57 |
| 75 | Guy Marston | 00:23:14 | + | 00:00:58 |
| 86 | Paul Samuels | 00:25:36 | + | 00:00:59 |
| 83 | Jude Glynn | 00:24:28 | + | 00:01:05 |
| 97 | Ruth Williams | 00:33:01 | + | 00:01:07 |
| 85 | Stacey Marston | 00:25:41 | + | 00:01:15 |
| 84 | Jaeda Goodman | 00:25:03 | + | 00:01:23 |
| 91 | Clare Mullin | 00:27:43 | + | 00:01:36 |
| 77 | Stewart Crowton | 00:24:38 | + | 00:01:49 |
| 71 | Dave Powner | 00:22:05 | + | 00:02:00 |
| 88 | Lisa Thompson | 00:27:35 | + | 00:02:16 |
| 98 | Kerry Oliver | 00:35:51 | + | 00:02:21 |
| 92 | Anna McManus | 00:28:47 | + | 00:02:33 |
| 79 | John Cheel | 00:26:09 | + | 00:02:58 |
| 99 | Michelle Burgess | 00:40:38 | + | 00:03:38 |